Insurance group Helvetia pays tribute to art collector and patron René Theler, who recently passed away. An exhibition provides insight into a Swiss managerial species that probably hardly exists anymore.
Helvetia has launched the exhibition "Art collector and patron – a tribute to René Theler". Until December 22, the Helvetia Art Foyer in Basel will feature some of the most significant purchases made by René Theler, former head of the group and chairman of the board of directors of National Insurance.
The exposition is being made in honor of the personality who passed away this summer, the company said in a media release announcing the opening of the exhibition.
Oldest company art collection
When René Theler succeeded his father Hans as director of the then National Insurance Company in 1972, he took over the economic fortunes of the insurance company. Ten years later he also took on responsibility for one of the oldest Swiss corporate art collections.
It was a very personal collection. Hans Theler had built it up with passion and expertise since the early 1940s.
Clear principles
The manager had something special anyway, because he firmly believed that promoting culture was part of the business world's remit. For example, on the occasion of the company's 75th anniversary in 1959, National Versicherung donated four Abstract Expressionist works by Franz Kline, Barnett Newman, Mark Rothko and Clyfford Still to the Kunstmuseum Basel.
According to the communiqué this was one of the most important gifts of art from a Swiss company to a Swiss museum. His son, René Theler, continued his father's commitment to art with that same conviction.
Picasso as a role model
On the occasion of the company's centenary he also made a donation to the Kunstmuseum Basel: "L'homme aux bras écartés". It is an enlarged reproduction of an iron sculpture by Pablo Picasso, which was placed on Picasso Square in Basel.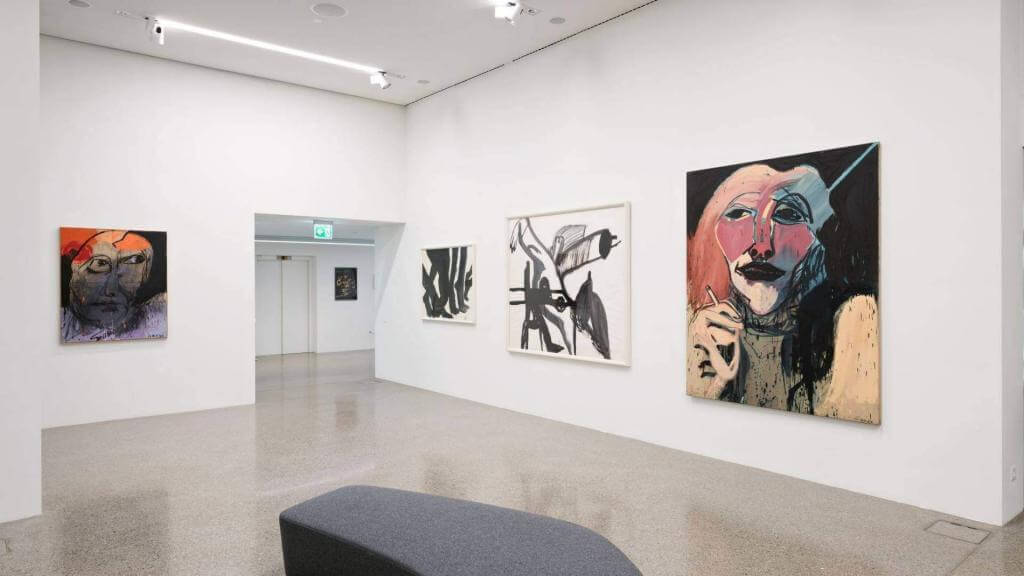 Insight into the Helvetia Art Foyer (Image: media service)
The exhibition in the Helvetia Art Foyer shows a selection of his favorite works and a portrait series by Niklaus Hasenböhler. René Theler had, in fact, cultivated personal friendships with artists over the years and was committed to expanding the company art collection founded by his father.
His purchases including, for example, the kinetic sculpture by Jean Tinguely "Cenodoxus – Isenheimer Flügelalter", have left their mark on the collection to this day.
Buying on a whim
As directors of the company, both Hans and René Theler took advantage of the freedom to buy those works that they themselves liked. Such a thing is rather inconceivable in a corporation today.
Instead, experts and commissioners are employed to justify purchases in all manner of aspects.
For his office, René Theler chose paintings by Walter Kurt Wiemken, Charles Hindenlang, Albert Müller and Max Sulzbachner. What the works have in common is their preoccupation with existential themes.
Reminder to visitors
Coghuf's energetic work "Events" was given a place of honor in his office. This is a mocking depiction of writing and reading officials with animal heads. The manager is said to have seen the work as a kind of warning not to become like the hacks caricatured by Coghuf.
This is also extraordinary and certainly sent signals to the visitors in his office.
And, as befitted a patron, René Theler also had himself portrayed. For this task he chose Basel artist Niklaus Hasenböhler, whom he held in high esteem and from whom he had already acquired several pictures for the collection.
Photos also exhibited
In several portrait sessions in the artist's studio, some of which lasted until late into the night, several portrait versions were created simultaneously, four of which now hang in the Helvetia Art Foyer. A look behind the scenes reveals that there are even photos documenting those sitting sessions themselves, taken at the time by photographer and artist Serge Hasenböhler.
All this can now be admired by visitors every Thursday from 4 to 8 p.m. in the Helvetia Art Foyer. At the same time, this is a way of commemorating a managerial species that has done a great deal for art and thus for the general public through its assertiveness. Also, at that same time, the reputation of the company is greatly enhanced.
02.10.2022/kut./ena.
Helvetia Insurance honours rare species of manager