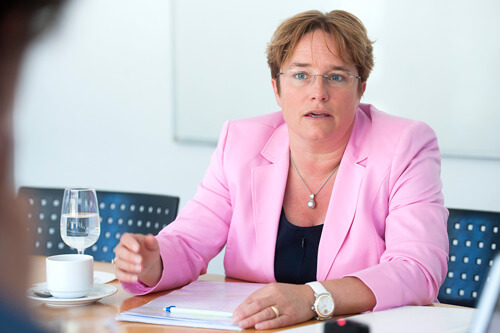 Magdalena Martullo-Blocher has taken a swipe at parliamentarians. In doing so, the SVP national councillor and entrepreneur has hit a sore spot.
Right-wing politician Magdalena Martullo-Blocher repeatedly attracts attention with her pointed remarks. Now she has even been critical of the way her colleagues work in parliament.
As a politician and company boss of Ems-Chemie, the boundaries between the two activities are usually fluid, she said in an hour-long interview with "20 Minuten" on Monday.
An eye on the wallet
She is more active in business than in politics. At the same time, she has an interest in ensuring that political debates in Bern are as short and streamlined as possible and limited to the bare essentials, the SVP national councillor from Graubünden went on to explain.
"The sessions are of course very long and for the majority, parliamentarians want long sessions. That gives session money," she criticized. In the past in the militia system it was different anyway, nowadays it is just the opposite, she said.
The Ems-Chemie boss dismissed the statement as an 'insinuation' that parliamentarians were only prolonging meetings in order to collect more attendance money.
Creating meetings
"When it comes to votes or commissions, it happens again and again that they say, 'now we still have to find topics,' otherwise we will have less meeting money," she explained.
Then invent or even create topics, Martullo-Blocher stressed. This is not what she and the people who still have to create want, the national councillor continued.
However, she does not want to reduce or even abolish attendance fees. "One should not be able to live on it," she gave as an idea for change. "Politicians should do something 'real' in life besides their parliamentary work." she demanded.
Parliament as a bubble
Asked how much savings she had in mind for parliamentarians, the politician postulated that it was appropriate not to earn more than half of one's income from politics. Otherwise, people would only do politics and a few posts as lobbyists, which would not be good for the country.
"Under the dome of the Federal Parliament it is like under a bubble anyway, like in an ivory tower," Martullo-Blocher further complained.
As an entrepreneur, for example, she always favors creative solutions. In Bern, she said, she misses something like that. "They always think that the status quo is set, or that what other countries do – we have to adopt just the same," the 53-year-old continued.
Daring to be creative
New constellations would have much more chance, she stressed.
In any case, the politician is known for her "Thinking Steps," as muula.ch recently reported on her new advice.
What is clear, she said, is that any changes in, for example, the remuneration of parliamentarians would have to go before the people for a vote. "In parliament, they will hardly change that," Martullo-Blocher put her finger into a considerable wound on "20 Minuten."
31.10.2022/kut./ena.
Martullo-Blocher pokes finger in parliament's wound