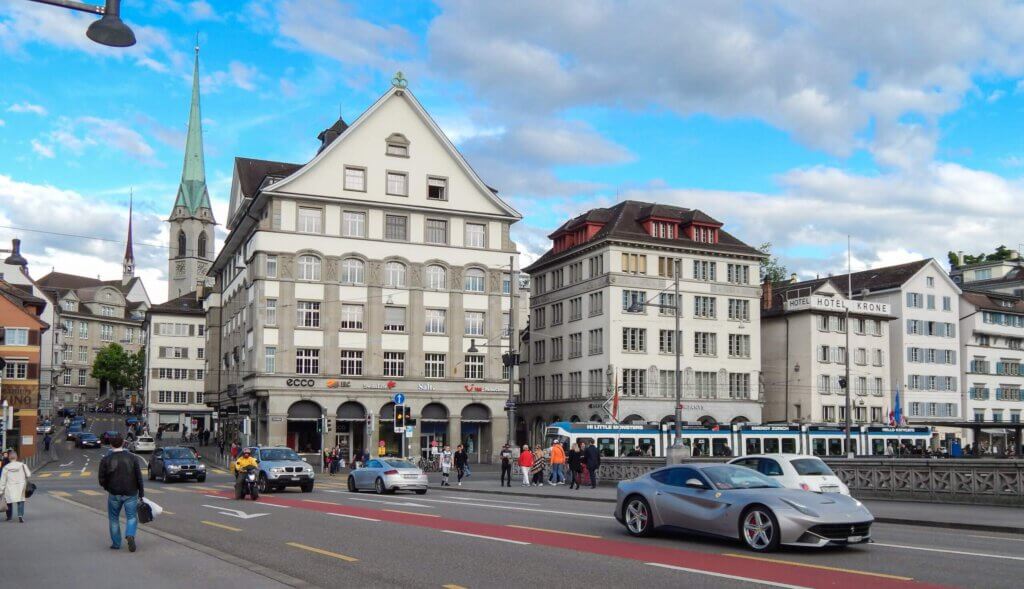 The whole country should pounce on the data of the Swiss Insurance Association (SIA). Then it would become clear in many places why Switzerland ticks the way it does.
Private insurers take risks off the Swiss population and off the local companies. The data development in the insurance industry shows trends as well as numerous characteristics of those insured.
More buildings
Premium income in 2022 increased by a high 8.3 percent year-on-year in fire and natural hazards insurance, for example, as announced by the SIA at its annual media conference on Tuesday and attended by muula.ch.
The main drivers for the strong increase in this area were Switzerland's growing building stock and rising sums insured per building, it added.
This shows that more and more buildings are being built in the country and that assets are also growing, or at least that the need for more risk protection for buildings is increasing.
Leased luxury cars
When it comes to motor vehicle insurance, however, it really comes down to the wire. In 2022, premium income for liability and comprehensive insurance increased by only 0.3 percent compared to the previous year.
However, the increase in premiums clearly reflects the trend toward the purchase of higher-priced vehicles and a growing leasing market for cars, according to the SVV. In other words, more expensive cars are now the order of the day in Switzerland – "lease it please."
Looking at prices
It is interesting to note that in liability insurance, the premium volume has fallen by around 1 percent, although the average annual growth for vehicles over the past 10 years is around +1.2 percent.
Insurers call this 'competitive pressure,' because despite more registered vehicles in 2022, a lower premium volume resulted.
Arguing the other way around, Swiss customers simply cover mandatory motor liability with cheaper providers. The will to save is obviously there in view of inflation.
Mishaps in leisure time
At 2.1 percent, accident insurance also recorded an above-average increase in premium volume. The main reason for this is a marked increase in non-occupational accidents, which have risen significantly in recent years.
So leisure activities are important for the Swiss – but that's also where more accidents happen. Insurers have to charge premiums that are commensurate with the risk, which leads to an increase in revenue.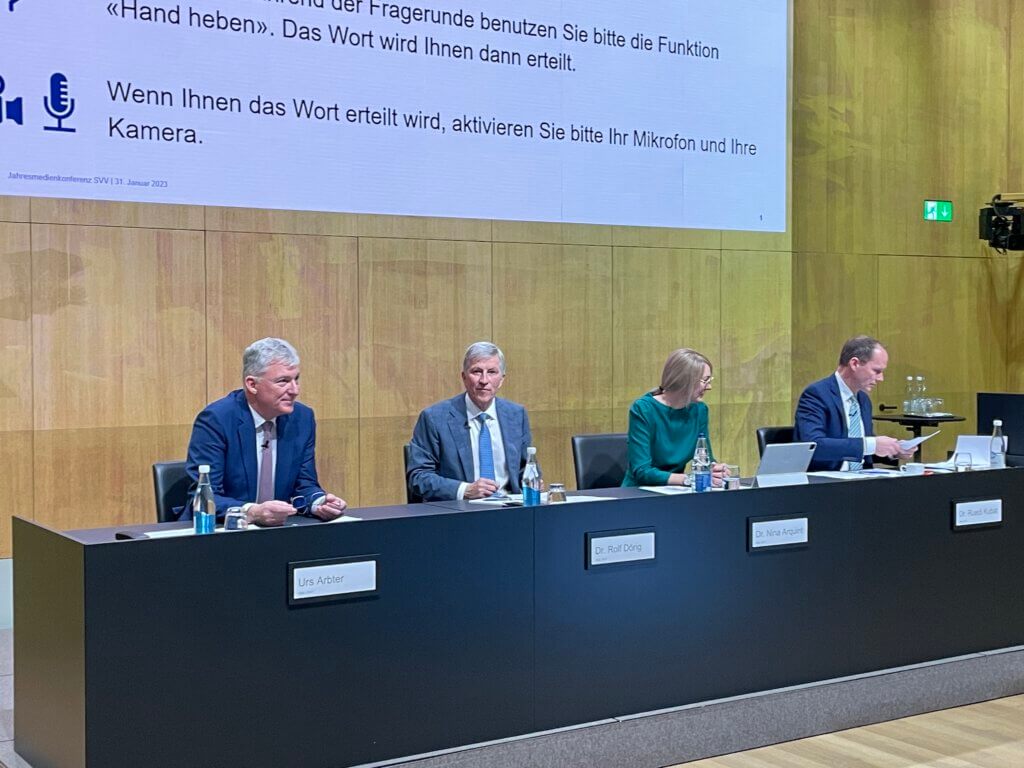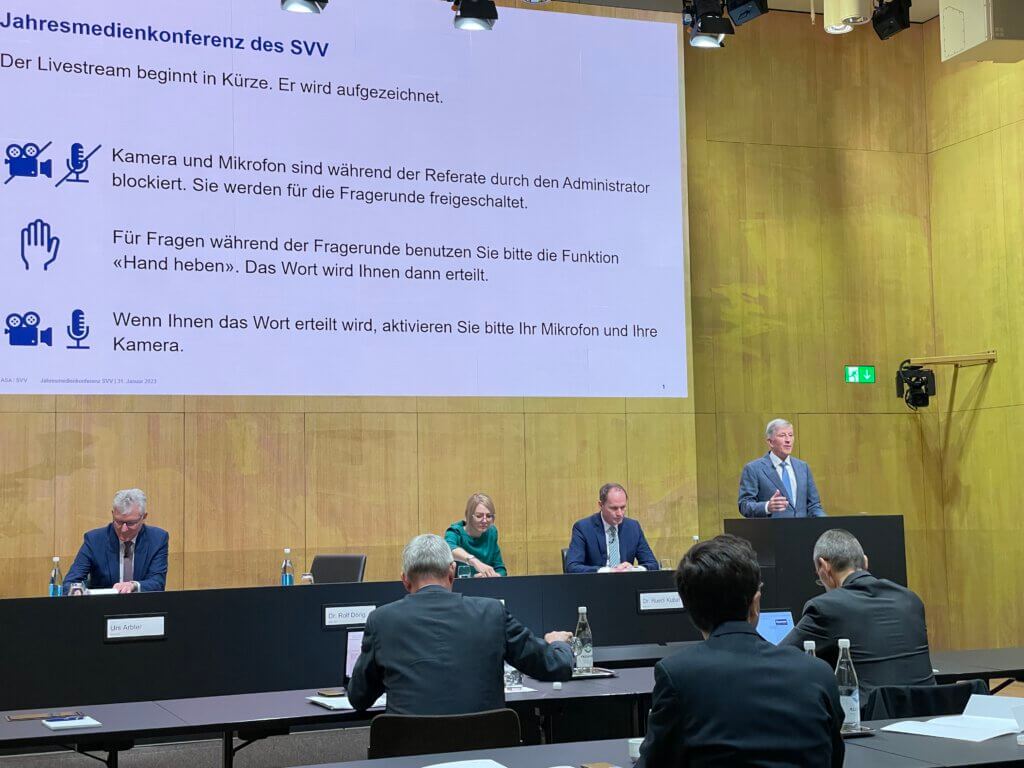 There was also another reason for the surge in premiums. This is the continuously increasing wage totals, which results from a growing number of companies due to economic growth.
In other words, higher wages are visible in accident premiums because economic growth and a thriving economy lead to better wage totals for employees.
Sick psyche
The same effect with the wage totals is also visible in the increase in premiums for daily sickness benefits insurance, the SIA continued. But because there are also more benefits, for example as a result of mental illness, the insurance industry has to react and raise rates, which is also reflected in higher premiums.
Annually, voluntary insurances in this area increase by about 2.5 percent per year.
To conclude this look into the soul of the Swiss, however, it is important to mention the current topic of BVG reform, where all the proposed changes are on the table of politicians in Bern.
Impressive returns
SIA President Rolf Dörig issued a clear warning in this regard on Tuesday, however, that the conversion rate in the 2nd pillar would absolutely have to be lowered in order to maintain a sustainable system. 'Switzerland must look demographic realities in the eye,' he said.
And the insurance industry immediately has figures on this, too. Allianz Suisse CEO Ruedi Kubat emphasized in his presentation that a conversion rate of 6.8 percent means a lifelong 'return' of around 4.8 percent, which must first be earned.
And a conversion rate of 6 percent would still come to a lifetime return of 3.6 percent, which is still difficult to achieve with investments.
Revenue slump
According to Dörig, the insurance industry expects premium income in the group life business to rise again after implementation of the BVG reform, which is still might be subject to a referendum.
Over the past 10 years, premium income has declined by around 5 percent per year. Most recently, the premium volume in 2022 fell by 1.9 percent compared with the previous year.
Boring industry?
After six years or two terms in office, SIA President Dörig will step down from his post this year.
When asked by muula.ch about what he had achieved, the long-standing Chairman of the Board of Directors of the Swiss Life Group was visibly satisfied that the Swiss insurance industry as a whole had come through stormy seas, such as the phase of negative interest rates, the coronavirus pandemic, the supply chain issue and, in general, a very challenging global environment, in a solid and stable manner.
The insurance industry, he said, is a reliable partner in the national economy, creating jobs and generating high value-added domestic income.
All this is of course, Dörig said, sometimes perhaps even a bit boring. But this does not matter, as long as insurers can be relied on.
Struggle for the essentials
What does matter, however, is what happens next at the SIA after Dörig. The fact that the industry is not always of one mind and that the various views of the Swiss Insurers' Association sometimes clash loudly is not a problem. That is not boring at all.
Dörig warned, however, that one must constantly fight for good framework conditions in Switzerland and for the industry.
There is probably no need for trench warfare within the insurance industry.
31/01/2023/kut./ena.
Insurance data reveals lifestyles of Swiss people