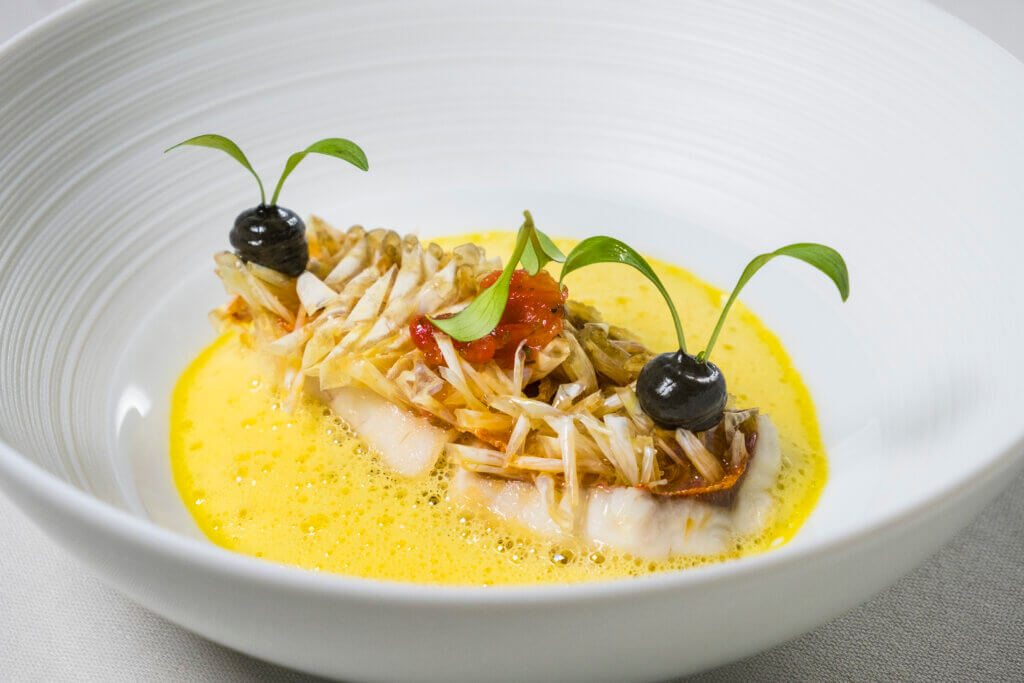 This week it rained new Michelin stars for top gastronomy in Switzerland. But does the award bring anything at all?
The brothers André and Édouard Michelin certainly wouldn't have thought so when they presented their first 'Guide Michelin' at the opening of the World's Fair in Paris in 1900. In the meantime, their guide to gastronomy has become the standard in the world for top restaurants.
Every year many countries wait to see if they might have been awarded a gourmet restaurant here or there, or even an additional star!
Unique quality
This week, Switzerland has once again been awarded numerous Michelin stars. The Swiss edition of Michelin stars has been around since 1994, and the luxury restaurants are doing their best to add a notch of sophistication, uniqueness and quality to their already exceptional standards.
The several dozen restaurant testers announced this week at an event at the world-renowned École Hôtelière de Lausanne hotel school that Switzerland has been awarded another gourmet temple with the coveted three Michelin stars.
Young up-comer
It is for 'Memories' in the Grand Resort Bad Ragaz. The 35-year-old chef Sven Wassmer is thus the up-and-comer of the year in the world of top gastronomy.
This restaurant 'Memories' joins only 138 establishments in the world that can boast three Michelin stars. In Switzerland, 'Memories' joins the noble group of 'Cheval Blanc by Peter Knogl' in Basel, the Restaurant de l'Hôtel de Ville in Crissier and Schloss Schauenstein in Fürstenau.
In addition to five new two-star restaurants, 30 new one-star restaurants were also crowned in Lausanne. This brings the total number of top-class gastronomic establishments in Switzerland listed by Michelin to 546.
Journey worthwhile
The classification by the approximately 85 food critics is relatively simple. One Michelin star means the restaurant is worth a stop. With two stars, it's even worth a detour to dine here specifically. And with three stars from Michelin, the cuisine is worth a separate trip altogether.
That's the assessment. You have to let that literally melt in your mouth. A luxury trip to a place just to eat in a restaurant. But gourmets will certainly get their money's worth.
muula.ch asks what such an award brings to a restaurant – except maybe a lot of stress as well as extra work and of course an enormous reputation?
Medallions of lobster
Exactly, the prices for the gourmet menus skyrocket with every star.
At the Restaurant de l'Hôtel de Ville, an eight-course surprise menu costs 340 Swiss francs. The actual gastronomic menu, however, costs 410 Swiss francs.
Guests can look forward to main courses such as the back of turbot, medallions of blue lobster or wild hare à la Royale.
At 'Cheval Blanc by Peter Knogl' in the luxury hotel Les Trois Rois in Basel, the six-course menu costs 290 Swiss francs. Smoked eel, beet, fermented garlic and wasabi and saddle of venison from Styria, celeriac mousseline and Rouennaiser sauce are served.
Big drop in prices
One sees the price ranges impressively around the 300 and 400 Swiss francs for the menu. If it goes then a star downward, then those menu prices sink rapidly.
For the two-star chef Tanja Grandits from Basel, the Aroma menu costs 265 Swiss francs. However, she already has to serve nine courses.
At the newly crowned Zurich two-star restaurant 'Igniv', the sample menu is already available for 158 Swiss francs. Lightly cooked langoustine with dill cream or pike perch with rhubarb ceviche are included.
Sound barrier held
At 'Roots', also in Basel and also on the list of new two-Michelin stars, the five-course menu still costs 152 Swiss francs. With nine courses it is 198 Swiss francs and does not break the sound barrier of 200 Swiss francs.
In 'Küsnacht ZH' at Rico's, the three-course menu is available for 135 Swiss francs up to the eight-course menu at 265 Swiss francs. That's right in the two-star range.
By contrast, at 'Belle Etage' in Basel's Teufelhof, a one-star restaurant, menus cost between 115 Swiss francs for four courses and 155 Swiss francs for seven. The one-star establishment 'tobias buholzer' in Rüschlikon ZH offers a canapé menu for 130 Swiss francs.
Simple mathematics
The price differential is obvious. Based upon its capacity in the kitchen and the number of tables, every luxury dining establishment can then calculate the menu price difference to determine whether or not the fight or the drudgery for another Michelin star is worth it.
It is not uncommon for gourmet restaurants to be located in luxury hotels, and there is usually a reason for this. The five-star hotels then offer special packages, such as an overnight stay in a suite and a five or six-course gourmet menu.
Chief hotelier chats
The reason for this is quickly identified, as muula.ch learned from the industry. A gourmet restaurant with its extreme demand for quality often costs so much money that it only delivers losses.
Or, as the former head of the Dr. Oetker Group, Rudolf-August Oetker, used to say: If guests just eat in a gourmet restaurant without staying in a hotel, they get something for free despite the high prices.
The now deceased baking powder and deep-frozen pizza patron must have known, because at that time he owned the Parkhotel Vitznau on Lake Lucerne, the Brenners Park Hotel in Baden-Baden, the Hotel du Cap-Eden-Roc on the Côte d'Azur – which was popular with movie stars, and the legendary Le Bristol in Paris.
Bon appétit.
22/10/2022/kut./ena.
What is the price for a Michelin star?