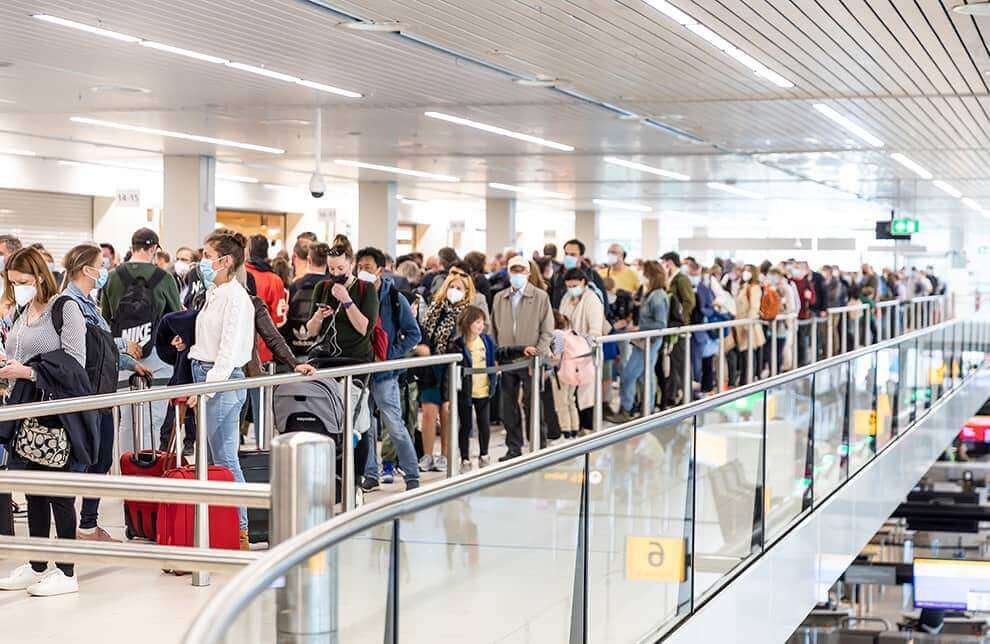 The resumption of flight operations after the coronavirus crisis has hardly worked well anywhere. But Swiss airports can now take a leaf out of, probably, the most-chaotic airport in Europe.
For weeks, Schiphol Airport barely made it out of negative headlines. Travelers missed their connecting flights when changing planes in Amsterdam because of queues at security checkpoints. The maximum number of travelers per day had to be limited. Luggage often could not be found for days.
The main airline at the airport, KLM, even asked its passengers to travel entirely without checked baggage. The pictures of the queues of passengers at the counters and security checks circulated around the world.
Compared to Switzerland
In Switzerland, the situation was not quite as pronounced. However, flight operations at Swiss airports were also significantly disrupted. But now the Swiss airports can take a leaf out of the book of the "ugly duckling" Schiphol in Amsterdam.
Amsterdam's main airport has taken a complete nosedive in terms of customer satisfaction.
That's despite the measures taken with additional staff – and it has not been possible to normalize operations in recent weeks and months, and as a result there have been long queues at security checks, passengers have missed their flights and have had to accept additional costs, Schiphol said in a highly-publicized media release.
Everything will be reimbursed
Therefore, all passengers who were negatively affected by the inconveniences from April 23 to August 11 and who did not receive compensation from airlines or insurance companies would be called upon to submit their additional costs for new flights, alternative transportation or accommodation to Amsterdam Airport for reimbursement.
Even if one had to return home and travel to the airport again, additional expenses could be claimed, it said.
Extraordinary action
Although Schiphol reserves the right in the fine print to reimburse only "reasonable" expenses or to refrain from reimbursement altogether in individual cases, the gesture is unusual.
Instead of leaving travelers hanging once again and simply referring them to airlines and insurers, the Amsterdam airport operator is now taking responsibility itself. And it is not only paying out in individual cases where passengers take legal action against the company, but it is offering a general refund solution.
The costs would be refunded in full or in part to a specified account within a maximum of six weeks. Around 1,500 applications have already been received, media reports said.
Targeting future customers
Some reports state that the sample campaign was not entirely voluntary, but came about as a result of pressure from consumer advocates. Nevertheless, the airport operator itself has an interest in ensuring that passengers do not rule out Amsterdam as a departure airport or transfer point from the outset for future trips on the basis of their negative experiences.
And that's where Switzerland comes in. After all, the airports in this country also benefit from transfer passengers, and the operating companies could be generous to them in the event of difficulties. Otherwise, passengers will avoid hubs like Zurich or Geneva in the future.
Since the application deadline in Amsterdam is relatively tight, at September 30 anyway, the flood of applications should be limited overall and the negative issue will thus be settled rather quickly for Schiphol Airport.
19/20/08/2022/kut./ena.
Ugly duckling becomes a role model for Swiss airports