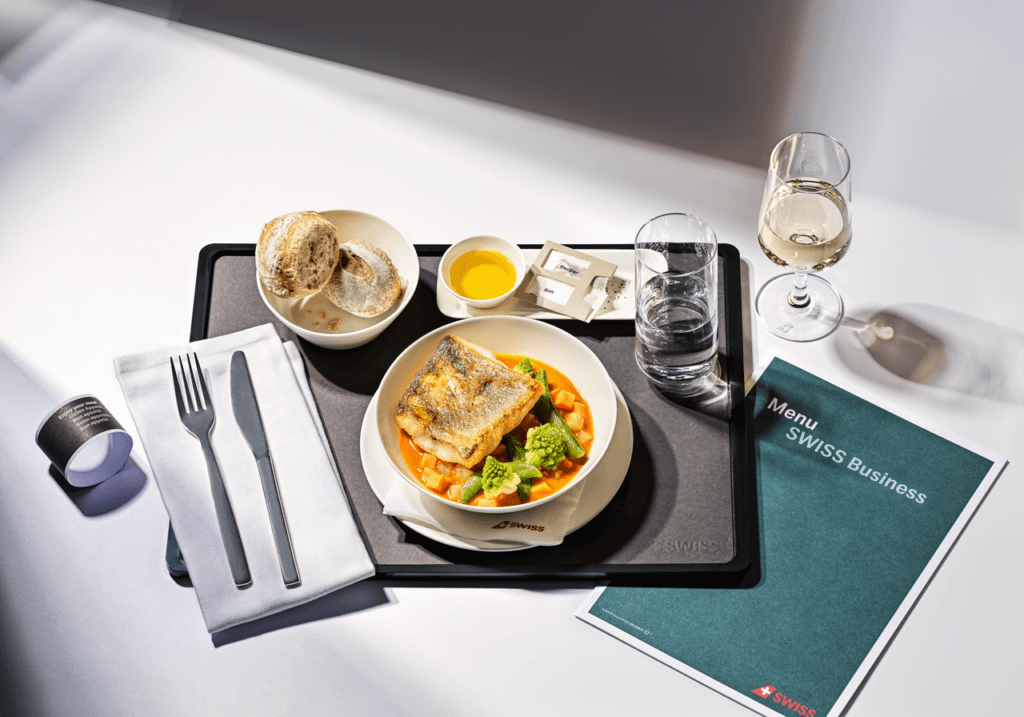 The airline Swiss currently has almost nothing but negative headlines. But now it has pulled off a coup to underscore its claim to be a premium carrier.
Switzerland's flagship airline Swiss has entered into a cooperation agreement with Zurich's luxury hotel Baur au Lac. As part of its "SWISS Taste of Switzerland" catering concept, the airline will now offer its First and Business Class passengers culinary flights of fancy with the world-famous traditional house, Swiss proudly announced.
Over the next three months menus will be served up by Laurent Eperon and Maximilian Müller, the top chefs at the hotel's own gourmet restaurant, Pavillon, it added.
Modern interpretation
Like Swiss, the five-star hotel on the shores of Lake Zurich is committed to the highest product and service quality. The two chefs de cuisine at the Pavillon, which has been awarded two Michelin stars and 18 GaultMillau points, Eperon and Müller, offer passengers on long-haul flights from Switzerland a modern interpretation of French haute cuisine.
According to Swiss they focus on specialties from the canton of Zurich and bring passengers closer to Switzerland's culinary diversity.
A glance at the First Class menu reveals that passengers can look forward to lobster tail and bisque mousse, celery sticks and radishes with yuzu tarragon vanilla vinaigrette, and Zurich meat specialties such as Limmattal cider crumble, Tösstal farmhouse bacon, and Wyländer raw ham as appetizers.
Tempting names
As the main prizes gourmets can look forward to a venison entrecôte with autumn trumpet cream, pepper sauce spaetzli, celeriac puree, red cabbage with apple or a St. Peter's fish fillet with smoked sturgeon beurre blanc, chickpea panisse and broccolini. Those should make your mouth water just reading about the dishes.
Top chef Eperon explained that high quality combined with first-class service is even more important to many people nowadays. The traditional hotel is therefore particularly pleased that, through the merger with Swiss, it now has the opportunity to pass on its 175 years of experience to guests outside the hotel.
Low humidity
But for top chefs it is usually not that easy to prepare menus for consumption on board an aircraft. The experts have to rely on the experience of the airlines, because the food tastes completely different on the planes than it does in the restaurant.
The cool temperatures and dry air in the aircraft have a huge impact on the taste. In addition, according to experts, the high noise level means that gourmets don't always get their money's worth.
Challenge for celebrity chefs
Airlines know, for example, that well-seasoned meals with intense flavor still taste passable at an altitude of 10,000 meters. Curries and citrus fruits in particular go down well as meals. In addition, spices such as cinnamon, ginger or cardamom enhance the taste experience on board.
And, of course, sufficient sauces with intense flavor components are important. So this should definitely be a challenge for star chefs, like those from Baur au Lac.
20-year concept
Swiss has been regularly taking its long-haul First and Business Class passengers on a culinary voyage of discovery since 2002. Every three months a top chef, awarded Michelin stars and Gault Millau points, presents the respective home canton.
The menus are accompanied by wine and cheese specialties from their respective region. In the course of its nearly 20-year success story, the Swiss premium airline has so far welcomed 75 guest chefs from all 26 cantons on board.
03.09.2022/kut./ena.
The Airline Swiss and the Baur au Lac join forces