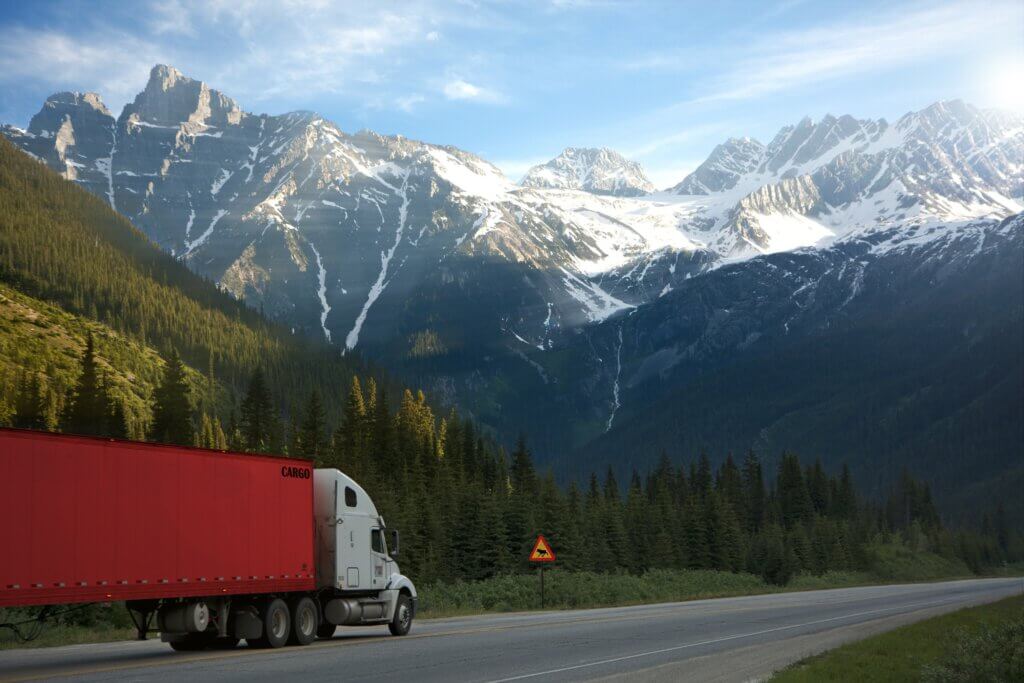 Switzerland wants to shift freight traffic from the roads to the railways. It is succeeding in this and, looking at EU countries, it is ahead twice.
The developments are stately. In 2021, transport performance on Swiss roads amounted to around 17.4 billion tonne-kilometers, i.e. the transport of one tonne over one kilometer.
An additional 10.4 billion tonne-kilometers were performed by rail in Switzerland last year. This is according to the latest figures released by the Federal Statistical Office (FSO) on Tuesday.
Pandemic rolled over
Compared with 2020, total transport services in 2021 thus increased by 4.0 percent to 27.8 billion tonne-kilometers. The freight transport by rail were growing more strongly at 6.2 percent than that by road, which increased by around 2.7 percent.
Both modes also increased their transport performance compared to 2019, the year before the coronavirus pandemic began. Rail was up 3.0 percent. On the roads, freight shipments increased by 1.7 percent.
Greater competition
Rail freight accounted for 37 percent of total transport performance in 2021. After a significant decline in the 1980s and 1990s, rail has been able to maintain its share in a range between 36 percent and 42 percent since the turn of the millennium.
This was achieved despite the increase in the weight limit for road freight vehicles in 2001 (from 28 to 34 tons) and 2005 (to 40 tons).
A comparison provides an impressive illustration of what has been achieved: the share of rail in land transport in the 27 EU countries was just 18 percent in 2020, as muula.ch found out from additional data provided by the FSO. Switzerland is therefore in a good position.
Short distances count
The two modes of transport, road and rail, complement each other in Switzerland. While the regional distribution of fine goods is in most cases only carried out by road, due to the existing transport infrastructure, rail offers certain advantages for longer transport routes.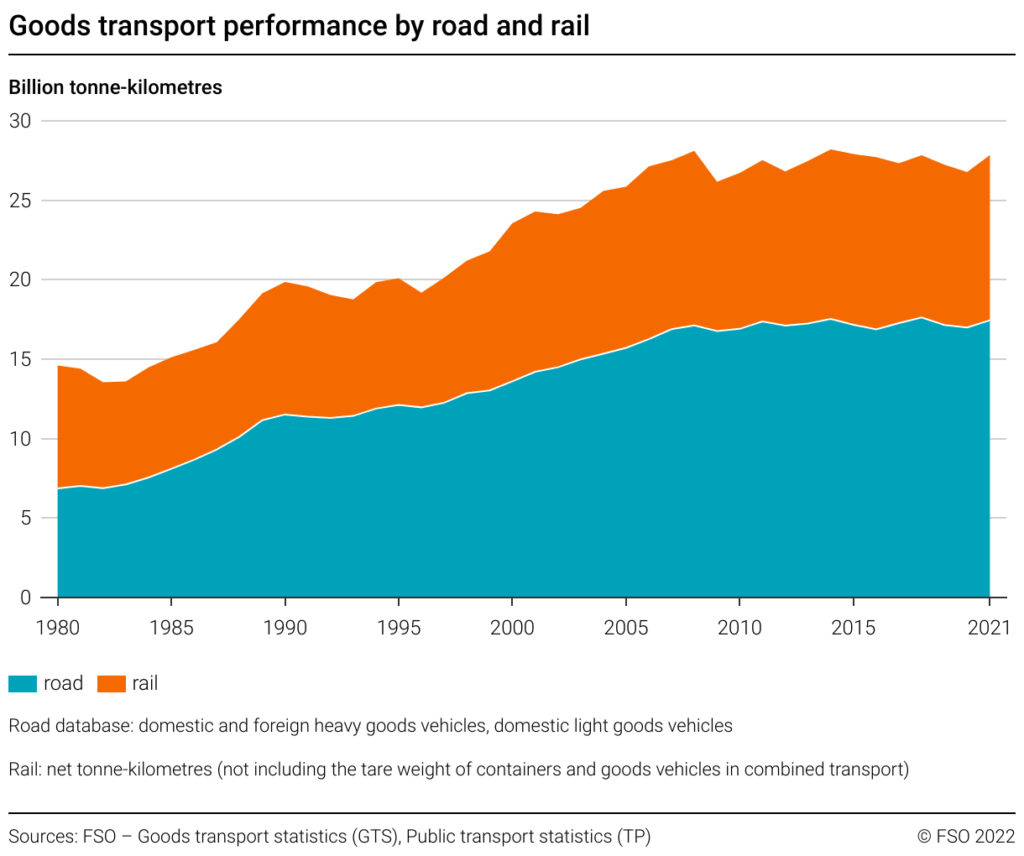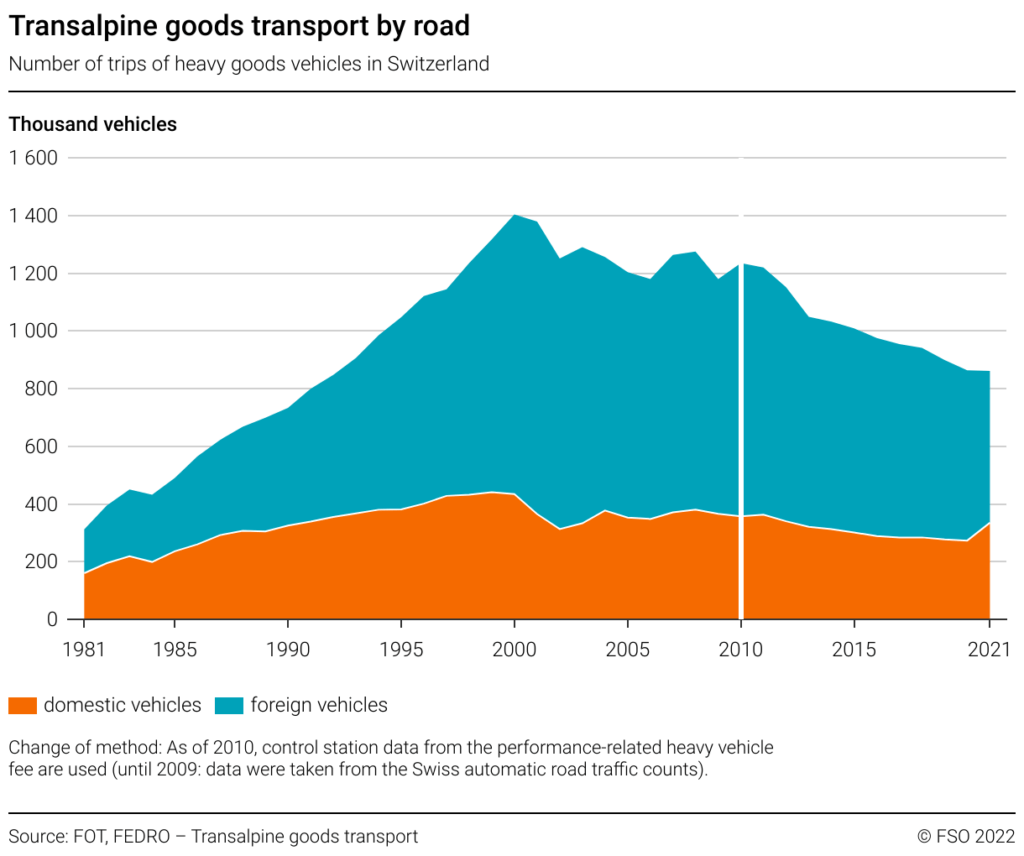 According to the FSO, this is reflected, for example, in the fact that in 2021, heavy road freight vehicles in Switzerland performed 66 percent of their transport services in domestic traffic and only 34 percent in international traffic, while international traffic dominated rail transport with a share of 77 percent.
The average transport distances in rail freight transport are also significantly greater than on the road. In 2021, goods were transported on the Swiss rail network over an average distance of 174 kilometers, while the comparable figure on the road was only 50 kilometers.
Overcoming the Alps
One of the goals of Swiss transport policy is to shift transalpine freight traffic from road to rail. In 2021, 75 percent of freight was transported by rail and 25 percent by road through the Swiss Alps.
In Austria, where significant volumes of goods are also transported across the Alps, the share of rail was only 27 percent and that of road 73 percent. This is almost the reverse of Switzerland.
High peaks
All in all, Switzerland does not fare badly in this respect compared with other countries. But even just looking at itself, there are peak values:
Indeed, the number of kilometers covered by heavy road freight vehicles was higher than at any time in the past 20 years. And container transport by Rhine ships and by rail also set new records in 2021.
11/22/2022/kut./ena.
Switzerland outperforms EU countries in freight transport