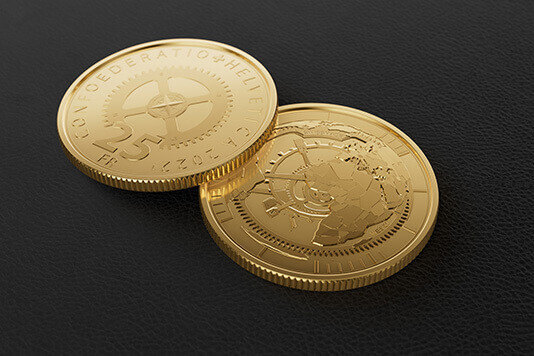 For the first time Switzerland has issued a gold coin with a face value of 25 francs for circulation. But this is not the only special feature.
The Federal Mint – Swissmint – has launched a new commemorative coin. This time it is the first Swissmint gold coin with a face value of 25 francs to enter into circulation, a media release said last Monday.
This is in recognition of the importance of the Swiss watch industry and the worldwide distribution of its products. These Swiss characteristics are therefore symbolically represented on the coin with clockwork and a globe, it added.
Artists at work
The beginnings of watchmaking in Switzerland are closely linked to the Huguenot religious refugees who came to Geneva in the 16th century and brought their expertise with them. From Calvin's city, watchmaking spread to all parts of Switzerland.
Today, Swiss products stand for the absolute luxury of watch quality and inspire collectors, as muula.ch has also reported earlier.
The 25 franc gold coin is available in a limited edition only in 'polished plate' quality from Swissmint's online store as well as from selected coin dealers and banks. The mint did not leave the design of the special edition to any officials, but to the Biel artist Remo Lienhard, who created the timeless design. So this is also another special feature.
Limited edition
Moreover, only 4,750 pieces in a case will be put into circulation starting next Thursday. In addition, there are only 250 coins with a certificate from the artist, as it was further reported on an insert. The heavy 5.64 gram special coin is estimated in times of increased inflation at a price of 419 francs.
But those who want to get hold of the rare piece, which has a gold alloy (0.900) and comes with a certificate from the artist, will have to dig deeper into their pockets and pay 469 francs.
All this brings in around two million francs for the government.
09/26/2022/kut./ena.
Switzerland launches special gold coin