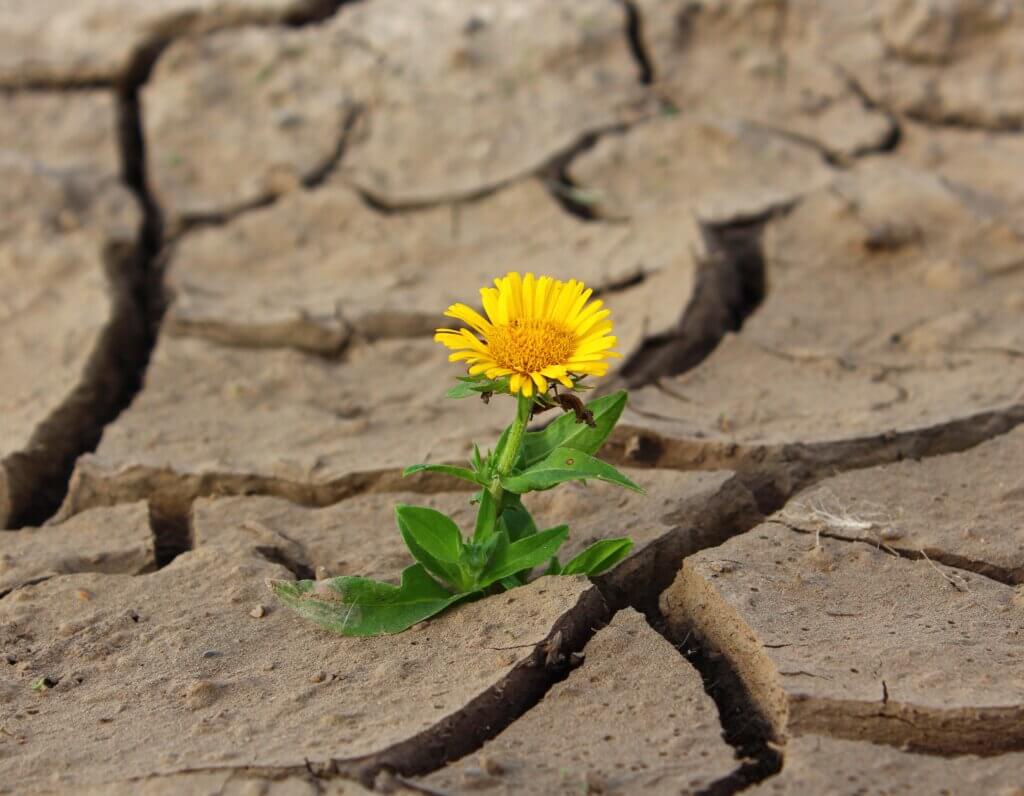 The struggle for survival of newly founded companies is immense. After five years, every second Swiss startup is no more. But in some sectors of the economy survive even more.
According to the latest statistics from 2020, a total of 40,188 companies were newly founded in Switzerland. This represents 7.1 percent of all firms active that year, the Federal Statistical Office announced Wednesday.
Small businesses have a significant weight in the Swiss economy. In 2020, for example, more than half of all active firms employed just one person, while only one-in-ten had at least ten employees.
More founded than liquidated
When it comes to new startups, the influence of small businesses is even greater, the data shows. Some 81.6 percent of new firms employed only one person. The share of companies with at least five employees then accounted for just over 2 percent.
In the past, the start-up rate was always higher than the closure rate. In 2018, the same as in 2020, 7.1 percent of active companies were newly founded during the year, while about 6.5 percent ceased operations during 2018.
So, there is company growth in Switzerland.
Whining after five years
In the first few years of their existence, however, newly founded companies have to fight particularly hard to survive.
An analysis of companies founded in 2015, that is – the youngest cohort that can be tracked over a five-year period – shows that more than four out of five companies did survive their first year.
Accordingly, after two years, the survival rate is still around 70 percent and after three years around 60 percent. After five years, however, more than every second company had disappeared.
However, there are significant regional differences in Switzerland, as the graphs clearly show. North-western Switzerland and Zurich have better chances of survival for such companies.
Proximity to the state helps
Furthermore, not only the region, but also the sector plays a role. According to the FSO, the highest survival rates are found in the "health and social services" sector. In this sector, as many as 61.8 percent of newly founded companies were still active after five years.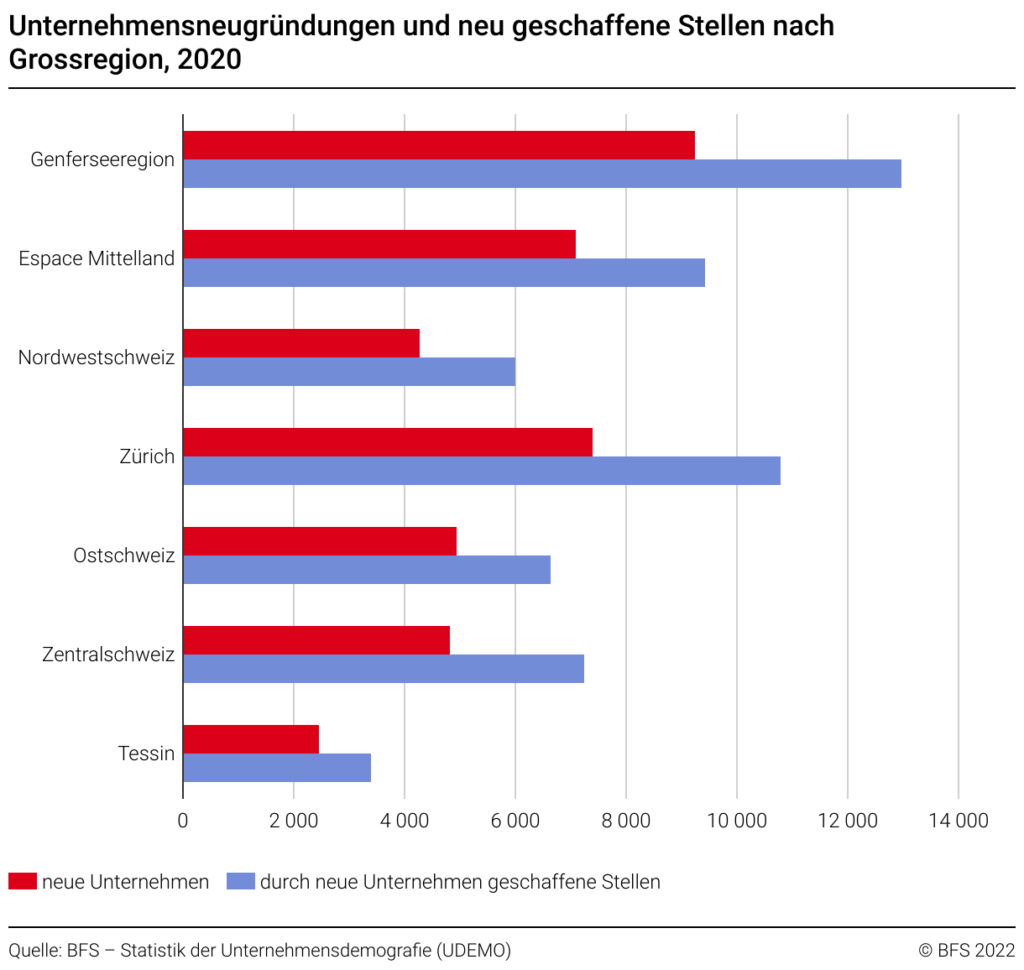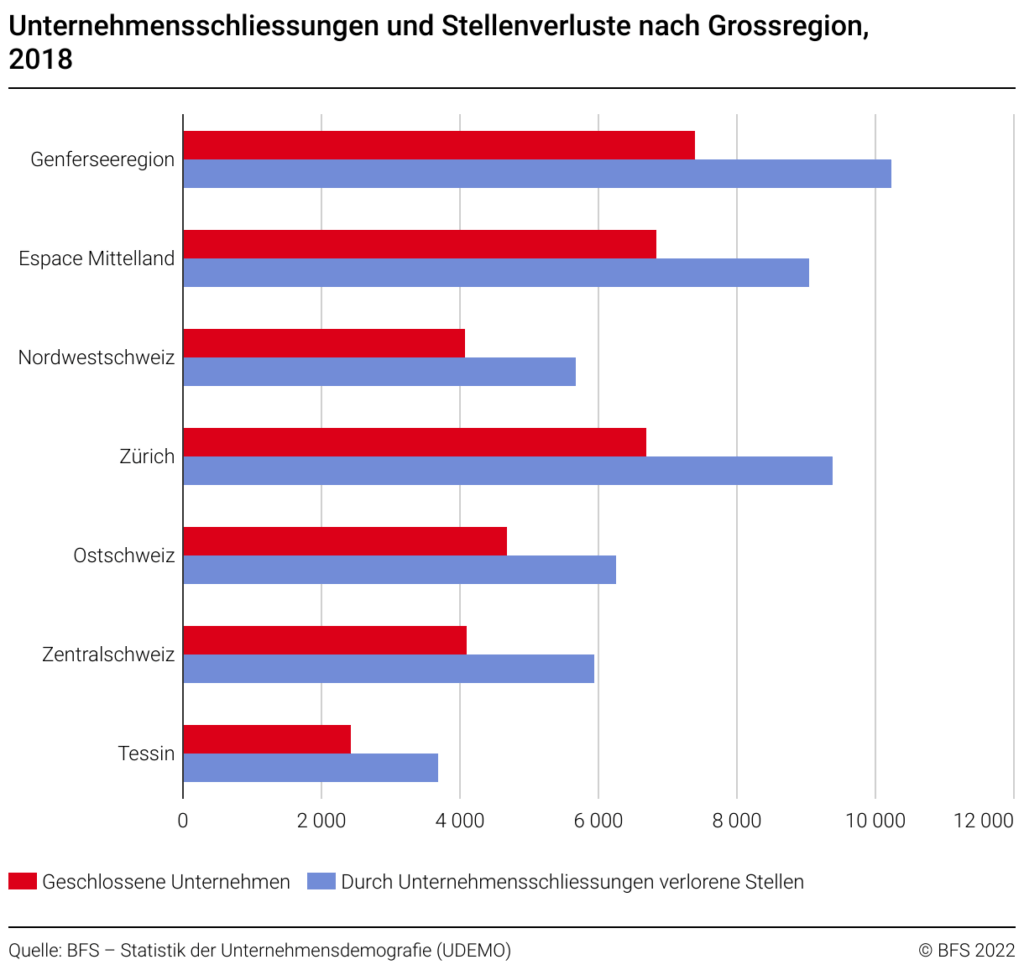 Survival rates in the health and social care sector are also significantly higher than in the other sectors of the economy up to four years after establishment. The figures show this impressively. After 1 year: 87.1 percent; after 2 years: 78.3 percent; after 3 years: 71.5 percent and after 4 years: 66.5 percent.
So, being close to the state is paying off handsomely.
Gastro struggles
Companies in the 'education' sector are also showing resilience, especially in the long term, with 64.7 percent still in existence after 3 years, 58.5 percent after 4 years, and 52.1 percent after 5 years.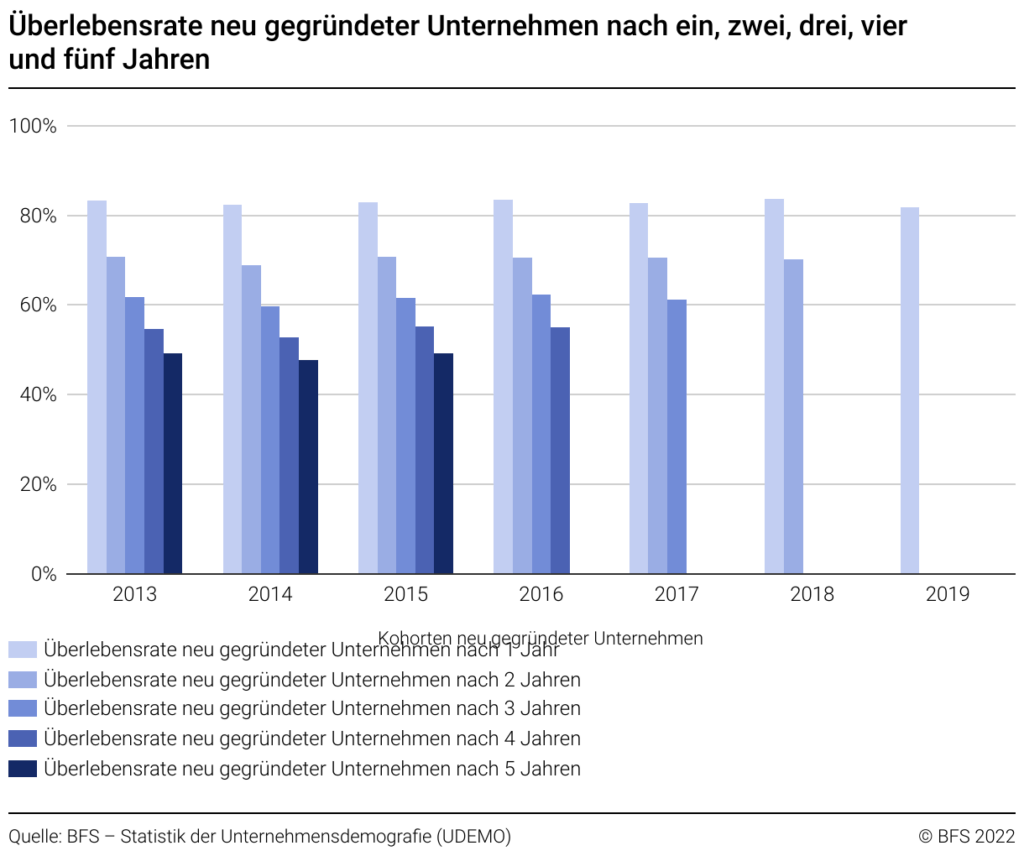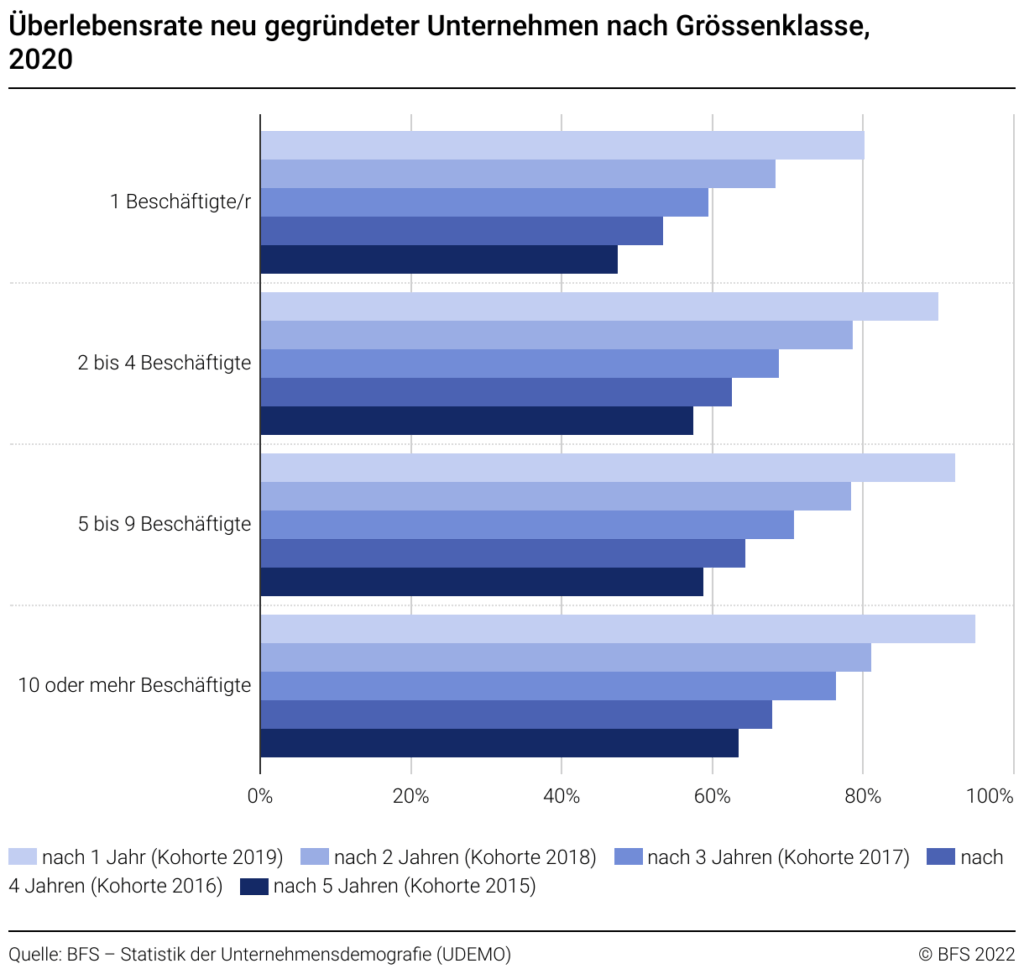 By contrast, survival is most difficult in the popular 'hospitality, lodging' industry. One year after starting up almost a quarter of those companies had already closed their doors.
After three years, just over half (51.3 percent) are still active and only 38.9 percent survive the first five years. This is a low point in the data.
More staff helps
In addition to their area of activity and region, however, the size of the companies still plays an important role with regard to survival rates.
One year after their establishment, 93.7 percent of companies with at least ten employees were still active. After five years, the figure was still 63.6 percent.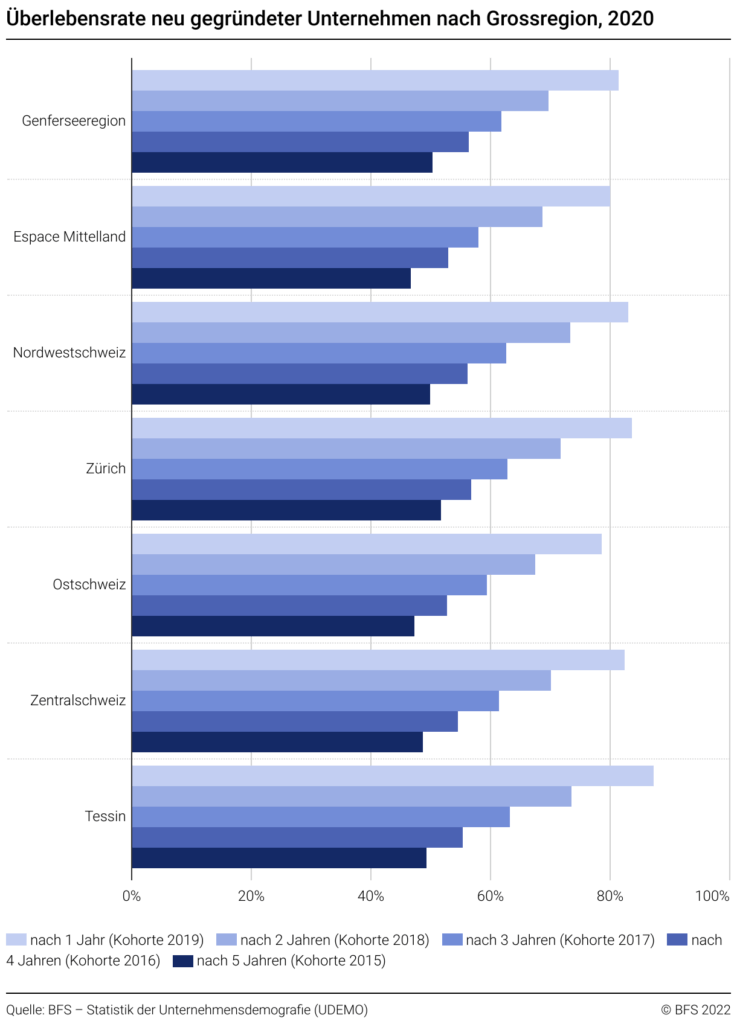 However, the smallest companies with only one employee are the most vulnerable. They are out of the window much faster compared to the other size classes.
So the figures show that startups with several people have far better chances of survival and would operate within the health and social care sectors in Zurich and north-western Switzerland, respectively.
07/12/2022/kut./ena.
Startups are more likely to survive in one segment