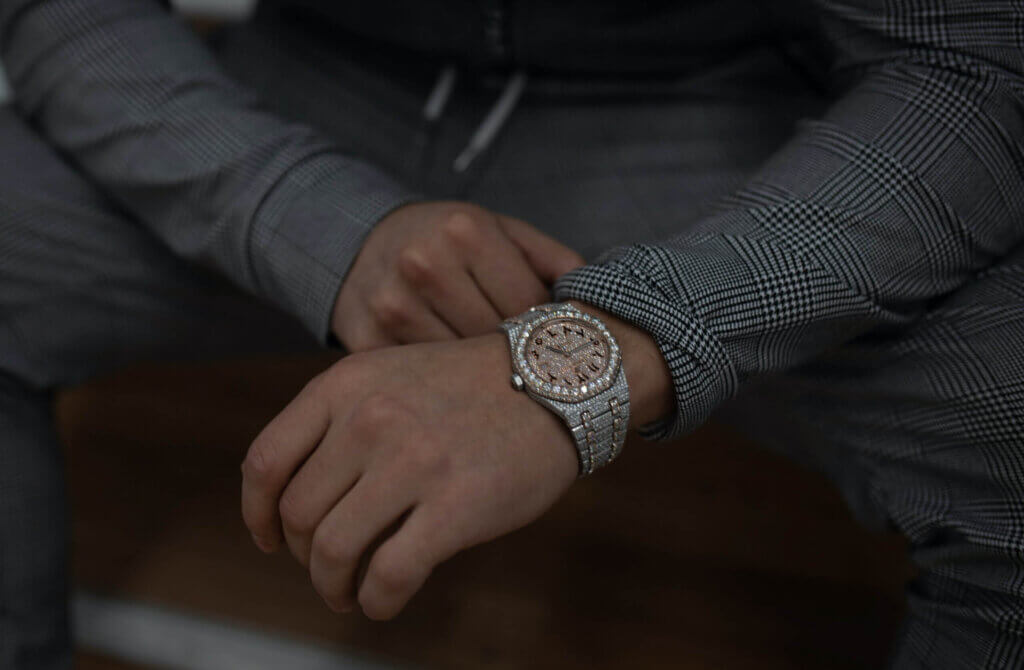 The luxury watch market seems set in stone. But top executives in the industry confirm, despite consistency, some things are currently coming apart at the seams.
The Swiss watch industry actually relies heavily on stability and consistency. And yet, there are currently tectonic shifts in the luxury watch segment.
"There is a kind of awakening," said François-Henry Bennahmias, for example, long-time head of luxury watch manufacturer Audemars Piguet, in the December issue of the Swiss business magazine "Bilanz".
Until a few years ago there was only ever talk about three or four brands, he said. The big brands were still doing very well.
Discovering the small ones
But customers are becoming increasingly aware of more and more brands, the top manager explained. Some of these are very small manufacturers that are doing extremely well, Bennahmias said.
Watchmaker Audemars Piguet plans to produce 50,000 of its coveted posh watches this year. But the traditional company is nevertheless not driving a strategy of scarcity.
This would mean that it is deliberately keeping output low. "That is not the case," the Frenchman emphasized. But mass production has never been an option for the manufacturer, which became known primarily for its Royal Oak Collection.
Production constant
This year the capacity is limited to the small number of 50,000 pieces, and he is not even sure that his manufactory can achieve that.
The watch industry is generally doing very well, which means that suppliers of numerous brands are inundated with orders and delays are occurring, he said.
"Although we are currently investing large sums to increase our production capacity and are constantly training new watchmakers, there will be little change in our numbers of pieces over the next few years," continued Bennahmias, who catapulted Audemars Piguet from a niche player to a top-selling brand among Swiss luxury watches.
China – yes and no
When it comes to sales, the strategy for smaller manufactories also looks quite different from that of luxury group Richemont, for example, which relies heavily on China, as muula.ch also reports.
"How many of the 50,000 watches do you think we sell in China?" the Audemars Piguet CEO asked rhetorically.
Mostly people think at least 10,000, which is wrong, he said. "We don't even sell 10,000 in our biggest market, the U.S., and we only sell around 4,000 to 5,000 each in the next biggest markets like Japan, Hong Kong and Switzerland," he further explained.
No focus on growth
Patek Philippe president Thierry Stern recently said in an interview in the "Neue Zürcher Zeitung" that his luxury watch company produces around 68,000 watches a year and has no plans for growth.
"Some people tell me that if you don't grow, you die." But this the managerial legend does not believe. "I can also produce the same number of watches, but be creative and change my collections often and be successful that way," Stern stressed, knowingly.
"Quality and quantity do not get along so well," he continued. It was also the reason, he said, as to why he decided to stop production of his most sought-after watch, the steel Nautilus 5711.
Expanding range
"Patek is much more than steel watches". The luxury watch manufacturer employs 2,400 people in Switzerland, he said, and they have mastered a wide range of materials as well as craftsmanship. "We could never survive on steel watches alone, and we wouldn't be Patek anymore," he emphasized.
The price of the new Nautilus in white gold is 59,000 Swiss francs, double that of the previous steel version.
This is not only because of the price of the material, he said, but also because the case is constructed differently, the clasp with its safety clasp is new, and details on the strap have been changed. "As much in demand as the Nautilus is, we could sell this watch for 150,000 Swiss francs, but that's not the Patek way," he continued in our interview.
Credibility counts
Patek Philippe replaced steel with gold not because the luxury watchmaker wanted to sell watches more expensively, but because the company was convinced that Patek Philippe should not make too many steel watches.
The price must relate to the product, Stern further emphasized. The company could not charge exorbitant prices for a three-hand watch in steel, he said. "I would also no longer be credible, and credibility for me is the key to long-term success."
However, like Audemars Piguet, he does not want to take distribution into his own hands. "As long as our retailers are doing a good job, I don't plan to, because I prefer to focus on making watches," the top Patek Philippe executive said.
Preserving brand essence
And yet another watchmaker spoke out in an interview over the past few days, taking exactly the same line. It is Claudine Gertiser, co-CEO of Oris, a brand in a different segment that produces mechanical watches in Hölstein BL.
"We have been in the same place for 118 years now," she told the latest issue of "Schweizerische Gewerbezeitung". At its core, the brand has not changed, she said. "We are still pursuing the vision of the founders, to produce high-quality watches for everyone," Gertiser explained.
However, the environment has changed a lot. As a brand and as a company we are much closer to the consumer and much more than just a watch manufacturer.
Offering customers more
"With e-shops and more than 25 of our own boutiques worldwide, we want to offer our customers a special brand experience, both physically and digitally," said the manager, who has also served on the board of directors of the privately-owned watch manufacturer since 2005.
In addition, she said, innovation is important. In the midst of the pandemic, for example, the small supplier Oris launched its own automatic movement, which boasts a 5-day power reserve, 10-year warranty and high antimagnetic properties, setting a new standard in the watch industry.
Younger people take the bait
But she also draws attention to another trend. "All customers love something special that doesn't need an update, can be repaired again and again, endures in a fast-moving age and gives pleasure every time they look at their wrist," she explained.
In this regard, she said, she could observe "that many young people still recognize and seek this, or perhaps even increasingly so."
And the same was said of Audemars Piguet. "We also see a massively greater interest from the younger generation, compared to five, ten years ago," Bennahmias said in this regard.
"Nota bene – from a generation of which it was said that we could forget about them as customers, because they didn't want watches at all anymore."
Unconditionally stumbling
"In terms of the whole Swiss watch industry, my feeling is: the glass is half full. One is far from becoming obsolete," Bennahmias beamed.
And the manager known as the 'enfant terrible' of the luxury watch industry, who pushed the brand to a valuation of two billion francs, gave us one more thing to take away.
"Making mistakes, struggling, stumbling, is part of success, after all". Even subsumed within the luxury industry, which likes to present itself as discreet, perfect and noble to the outside world, the 58-year-old alluded.
11/12/2022/kut./ena.
Market of luxury watches rigid yet moving