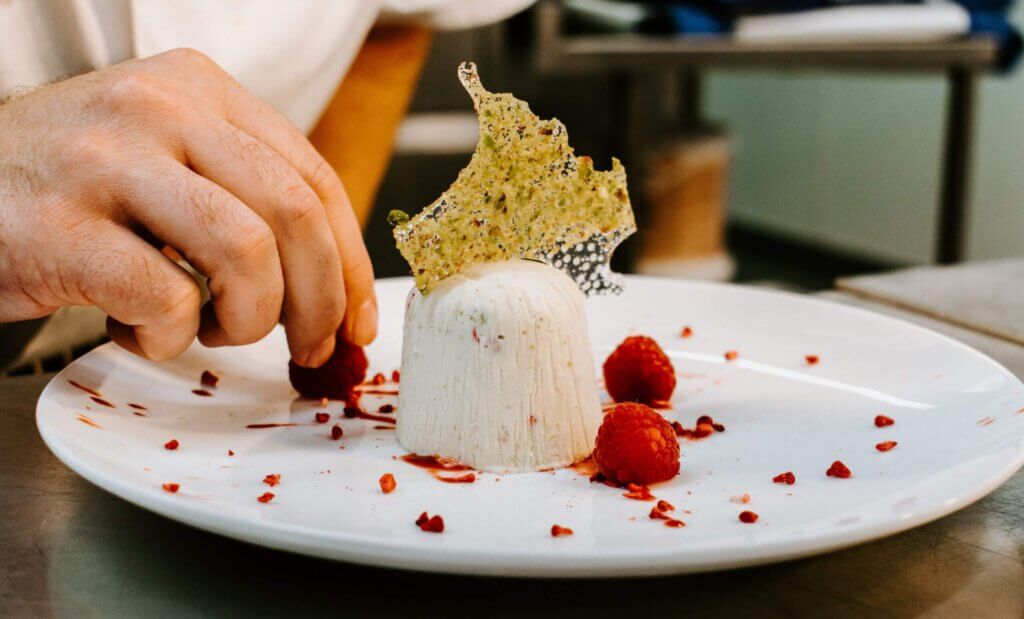 Shortage of workers is felt in many places in Switzerland. But an industry is complaining about staff shortages where they had hardly appeared. And the reasons are also surprising.
Companies are desperately looking for personnel, and now an industry is joining the ranks that previously had hardly any problems with manpower.
We are talking about the top gastronomy sector, where the problem is hitting twice.
Passion as a companion
On the one hand, gourmet restaurants can hardly find staff. He works "certainly 80 hours a week, spread over six, seven days," Zurich-based top chef Tobias Funke told the "NZZ am Sonntag" about the circumstances.
"What's crucial is that you like what you do. That is underestimated in our society," he stressed. "If the profession, no matter which one, is a passion for you, that's what you're right for," the well-known Michelin star chef continued.
Tough conditions
The pay has also become better in many places, he said. And the job is certainly exciting, the chef advertises.
"Switzerland offers an outrageously diverse gastronomic landscape, from the best hospital and home kitchens to trendy suburban pubs and the most exciting gourmet restaurants in the world," Funke continued.
However, it's not all sugar-coating. "We work acyclically, which has more advantages than disadvantages," he said, describing the problem. The star chef also warned that too many establishments are run by people 'who have no idea'.
Spicing up the image
And that brings us to the second hurdle. "We have a huge problem in Switzerland with young talent," he said. Twelve years ago, the industry had three times as many apprentices as it does today, Funke lamented.
"In individual cantons, just a single chef apprenticeship is said to have been started this summer; I myself have only been able to award one, and in service none at all," the top chef went on to explain.
But the old days, when he literally slaved under chef Horst Petermann, are long gone, he said. "If you didn't parade, there were three new applicants tomorrow. I used to work 16, 18 hours a day at minimum wage, you had to be happy to get a job."
Performance still necessary
But that's where the industry learned, he says. "Back then, the conditions were not optimal," he said, promoting the top restaurant industry.
However, he said, young people today are hardly taught that you have to work your way through. In top gastronomy, employees can make a good living, within reason, he said. "But you have to do something for it," the fine-dining expert emphasized.
Prices must rise
But profit margins would have to rise again. "You can't do business with 1 to 2 percent profit margins, which is the norm in this country," he criticized. The cost of goods is 20 to 40 percent and top gastronomy always needs top quality, even for the simplest ingredients.
"We are perfectionists and product fetishists, constantly demanding the highest quality," he said. Funke explained that the only way out is to continue to increase the selling prices of luxury dishes and posh drops.
"Eating out should again become something more of a luxury, at least something special," he clarified the future scenario. How much the prices per Michelin star differ in Switzerland was recently investigated by muula.ch and revealed almost constant price differences.
Three areas of work
And he would like to see changes from other sides as well, in order to become more attractive to employees and to also attract more customers despite price increases.
First of all, Germany, Austria and Switzerland had a lot of regular customers in the top gastronomy. Internationally, however, Funke notices that in top restaurants in other countries, people eat among tourists. So it's important to diversify the customer group.
With a sense of purpose
Secondly, new ways of developing staff must be expanded. Funke remains loyal to the Michelin-star restaurant "Fernsicht" in Heiden AR, he says, although he has projects to open a pasta-only restaurant in Zug and another restaurant in St. Gallen in the fall, or to host a "fondue chalet" where an office worker and a top manager would sit at the same table.
"New projects are primarily a stage for employees to grow out of the business and get a chance to develop in a new environment," he said, explaining the principle.
Not just chocolate
And thirdly, Switzerland should also be advertised differently, for example by analogy with the Nordic countries of Europe. After all, he said, Switzerland has had the highest density of Michelin stars in the world for years.
"But Switzerland Tourism prefers to advertise with mountains and chocolate," the celebrity chef criticized to the "NZZ am Sonntag".
15.01.2023/kut./ena.
Labor shortage takes one industry by surprise