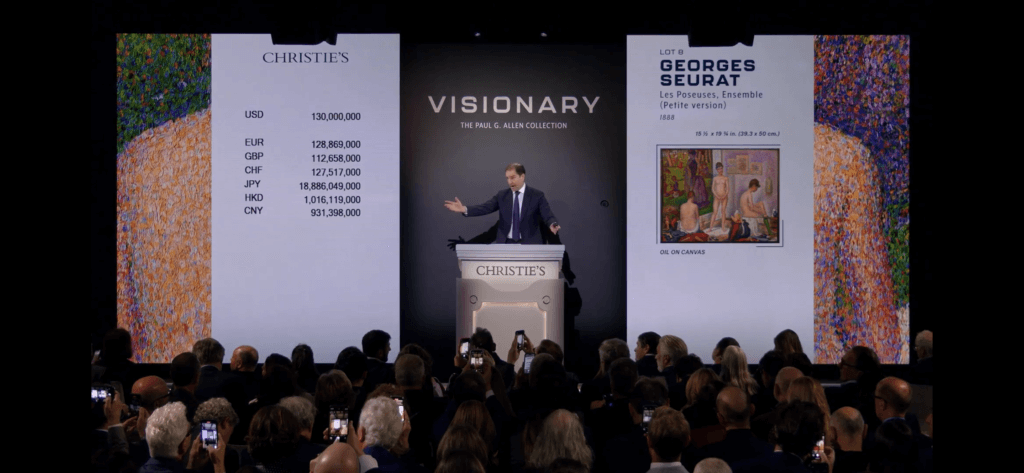 Auctions of art are usually already spectacular. But what happened this week in New York will go down in the history books several times over.
The hammer falls and again a painting is sold. And the instructions came by phone. The auction started this week at Christie's in New York with 75 million dollars. In the end it was just a duel as the two women were standing right next to each other.
In the end the Asian woman won, spending 130,000,000 dollars for the artwork "Les Poseuses" (The Models) by French painter Georges Seurat.
Microsoft co-founder
With all the trappings of taxes and fees, the sale of the painting was settled for around 149 million dollars. The transaction marked the highest price ever paid for a work of art by an Impressionist or Post-Impressionist, the world-famous auction house Christie's later proudly announced.
With the hammer blow, however, it went on and on starting last Wednesday. The entire collection of philanthropist and co-founder of the Microsoft Group, Paul G. Allen, went at auction.
Historic evening
It ended up being the most expensive private collection with a sale value of 1.6 billion dollars. On said evening alone 60 works of art went under the hammer, fetching 1,506,386,000 dollars in sale value.
But this was not the only special feature. Max Carter, Vice President of 20th and 21st Century Art at Christie's, put it succinctly: "Never before have more than two paintings exceeded the 100 million dollars mark in a single auction. But tonight there were five."
Four of the paintings were masterpieces by the fathers of modernism – Cézanne, Seurat, Van Gogh and Gauguin.
Millions of spectators
In New York the two auctioneers accepted bids from customers from 19 states for the historic first part. On Thursday, the second day of the auction, bidders from as many as 31 countries participated at competitor Sotheby's.
The sales were watched by more than 4 million viewers on Christie's global platforms, further reflecting the dimensions of the deals.
In addition to the demand at the auction, even the preview exhibition attracted enormous interest. More than 20,000 worldwide visitors came and long lines formed outside the Rockefeller Center during the 10-day preview.
Good cause
Individual artists received new top values for their works at the auction.
Those following 24 artists were: Thomas Hart Benton, Jan Brueghel the Younger, Paul Cézanne, Henri-Edmond Cross, Max Ernst, Sam Francis, Lucian Freud, Paul Gauguin, Barbara Hepworth, Jasper Johns, Gustav Klimt, Guillermo Kuitca, Jacques Lipchitz, Alden Mason, Diego Rivera, Nancy Rubens, Georges Seurat, Henri Le Sidaner, Paul Signac, Edward Steichen, Mildred Thompson, Vincent van Gogh, Andrew Wyeth, and the artistic duo of Claes Oldenburg and Coosje van Bruggen.
And the whole 1.6 billion dollars ended up being donated to charity. So this makes history all over again.
11/13/2022/kut./ena.
1.5 billion dollars in just one evening