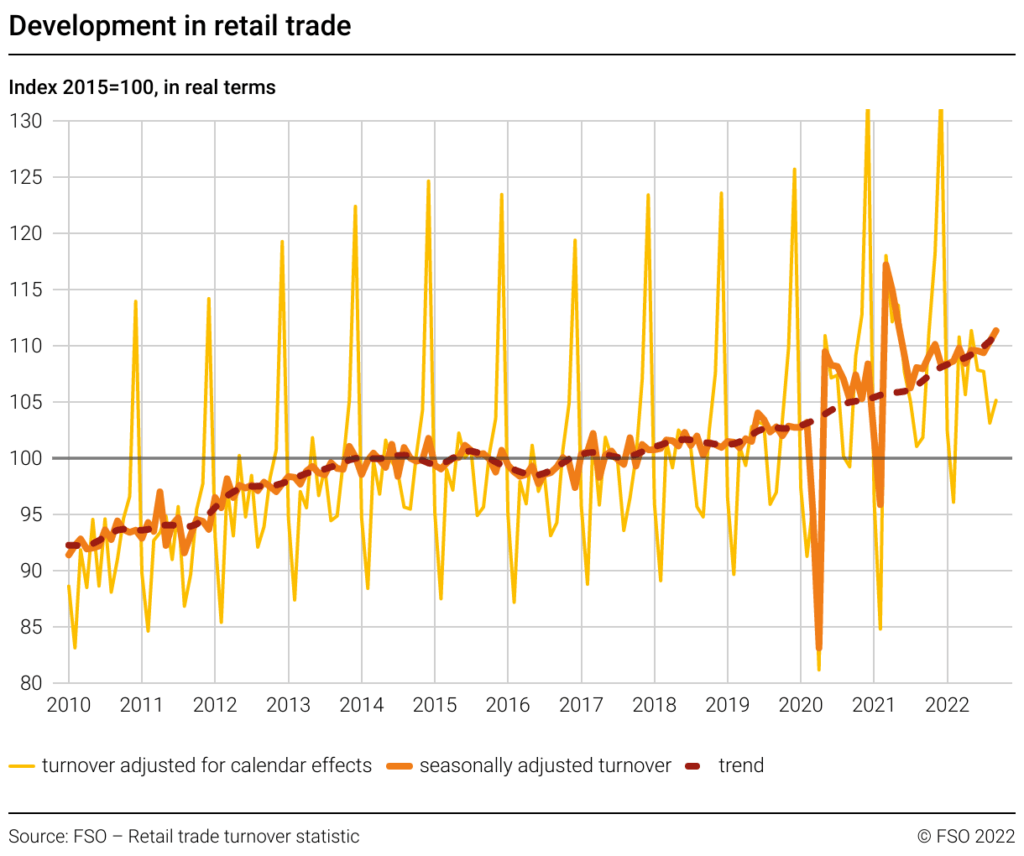 The Swiss retail trade cannot complain about declining revenues. Even excluding the inflation, sales know only one direction.
Swiss retail sales continued to increase in September. Retail sales adjusted for sales and holiday effects rose by 5.7 percent year-on-year in nominal terms in September 2022.
Even in real terms, i.e. taking inflation into account, the key figure was up by 3.2 percent. This is shown by the provisional results of the Federal Statistical Office (FSO) on Monday.
Significant plus
Seasonally adjusted, nominal retail sales increased by 1.0 percent compared to the previous month. In real terms, revenues still increased by 0.9 percent after seasonal adjustments. The graph impressively illustrates those developments, as the trend is clearly upward.
Retail trade excluding service stations recorded growth in nominal revenue of 5.1 percent in September 2022 compared with September 2021. In real terms, revenues increased by 2.9 percent.
Non-food top
Retail trade in food, beverages and tobacco, adjusted for sales and holiday effects, recorded a 2.8 percent increase in nominal sales, with the value remaining constant in real terms.
The non-food sector registered a nominal increase of 6.8 percent. Excluding inflation, this segment was still up 5.0 percent.
Small as well as large
In August the values had already increased significantly compared to the previous month and month of the previous year, as reported by muula.ch.
The retail sales statistics of the FSO are based on a random sample of around 3,000 companies. It is a monthly survey of Migros, Coop & Co. with small businesses being surveyed quarterly for monthly sales figures.
10/31/2022/kut./ena.
Upward shopping trend remains fully intact