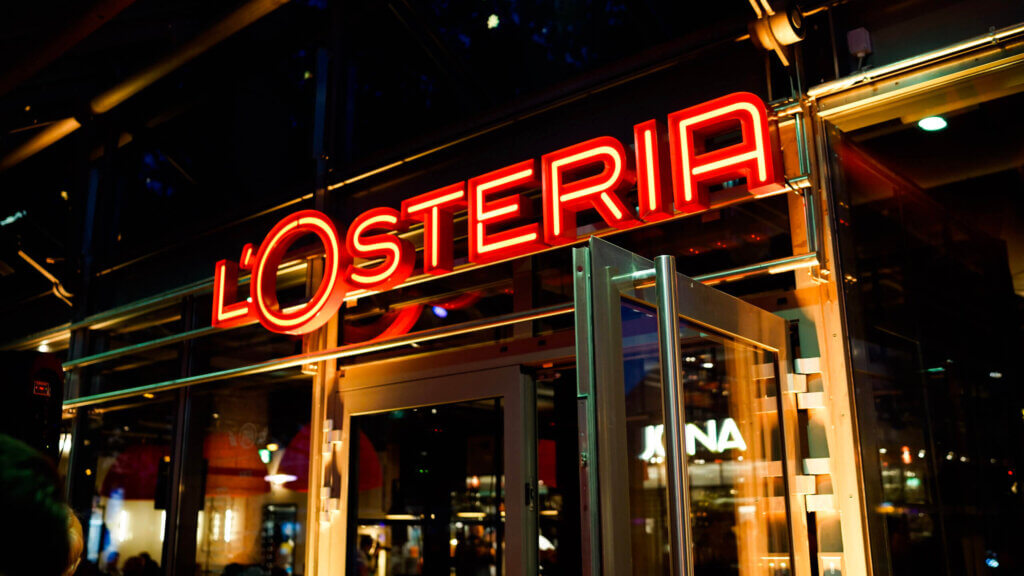 The restaurant chain L'Osteria has a new majority shareholder. A three-digit million amount for the "best pizza and pasta"?
Basel, Biel, Lucerne or Vauffelin in the canton of Bern – in many places in Switzerland, the restaurant chain L'Osteria is a byword for pizza and pasta.
Even when Swiss shopping tourists are looking for something tasty to eat just beyond the country's borders, they come into contact with L'Osteria in Lörrach or Konstanz, for example.
Active in eight countries
A lot has happened since 2015, when the chain's first restaurant opened in Switzerland. After its founding in 1999 in Nuremberg, Germany, the first L'Osteria abroad followed in 2011 – initially in the Austrian city of Linz.
After Switzerland and England, other European countries followed with locations in Holland, the Czech Republic and France. With the opening of its first restaurant in Luxembourg, L'Osteria closed 2019 already across eight countries and at 121 locations.
The chain operates some of its locations itself or outsources them to franchisees. L'Osteria continues to pursue ambitious plans for the coming years, and that's where the three-digit million sum comes in.
Founders remain on board
The investment firm McWin is in fact taking over the majority of the restaurant chain. Around two-thirds of the shares have been sold.
This is intended to drive the chain's growth throughout Europe, the Munich-based company led by founders Klaus Rader and Friedemann Findeis announced on Tuesday. They will remain involved as minority shareholders, the statement added.
According to media reports, around 200 million euros are to have been invested in the system catering chain with its approximately 6,000 employees.
Experts in system catering
McWin is backed by two U.S. investors – Henry McGovern and Steve Winegar. They have built up one of Europe's largest investment holdings in fast food.
The company, which has offices in the United Kingdom, Poland and Spain, invests in gastronomy and food technology throughout Europe. Its holdings include the operations of Burger King and Dean & David.
"We strongly believe that L'Osteria has the potential to become the market-leading restaurant group in Europe," McWin co-founder McGovern said in praise of the deal.
Even the normally critical newspaper "Blick" judged a few days ago that L'Osteria bakes the 'best pizza in Switzerland'.
Arab financiers
The investment company McWin manages assets of more than a billion Swiss francs.
In August, it had launched a fund with about half a billion francs in capital. The Emirate of Abu Dhabi also participated in the investment vehicle as a backer.
Ambitious five-year plan
L'Osteria plans to expand into Poland this year. The company had already set itself the goal in 2021 of doubling its key figures such as sales, number of restaurants and employees in the following five years.
Sales in the past fiscal year 2022 were around 390 million euros.
With the new money and expansion plans, further locations are also likely to follow in Switzerland, which is attractive for such restaurant concepts, after Basel, Biel, Lucerne or Vauffelin in the canton of Bern.
01/24/2023/kut./ena.
Restaurant chain L'Osteria adds more toppings