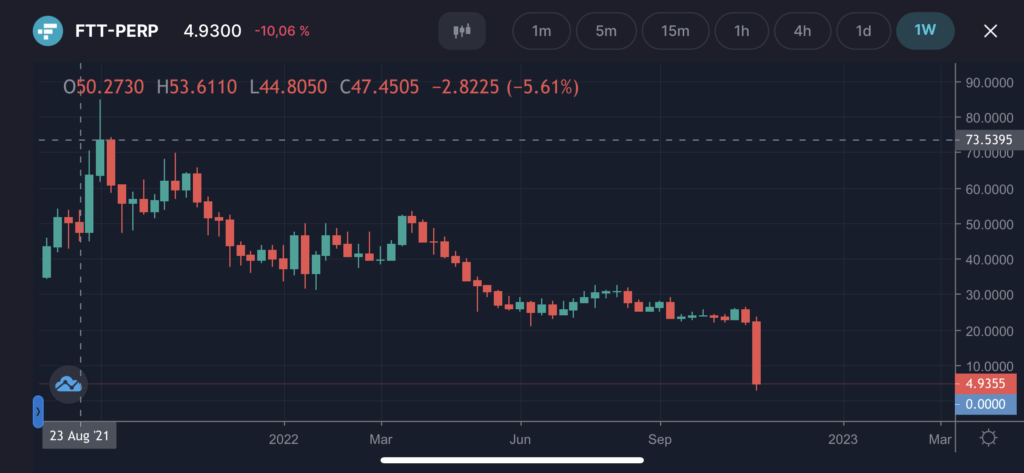 The FTX exchange, popular among crypto investors, has apparently run into difficulties. However, the crypto world seems to be spared yet another insolvency case – for the moment.
The second largest crypto trading platform in the world, the Bahamas-based exchange FTX, has found a safe haven. The largest trading platform, Binance, will take on rival FTX, both bosses announced on Wednesday night.
Earlier, FTX had tightened the air on liquidity with rumors of not only mass coin outflows, but also sales of the platform's own coin from FTX.
Death blow dealt?
Binance itself, in particular, had contributed to the troubles over the weekend, as they had dumped all of their FTX tokens worth hundreds of millions of dollars, once again really fueling speculation about FTX's continued existence.
Then on Tuesday the token went completely downhill. The price collapsed by 75 percent to just 5 dollars and remained in this range, even after the takeover of FTX had been announced (see chart).
Exit possible
As always in the crypto world there are hardly any trustworthy sources of information. Mostly, tweets that coin gurus or the platform makers themselves have to serve, but this leaves uncertainty.
According to several well-informed sources, Binance has in any case built a kind of emergency brake into the deal and can still back out at any time. In any event, the big movers in the crypto world are usually intertwined, so that in the event of a default, all the others will also be strongly affected.
Waiting period helps
Binance and FTX are very popular among Swiss traders of Bitcoin, Ethereum & Co. because of their good functionalities. Currently, however, no withdrawals seem to be possible with FTX. Transactions are executed normally, though.
FTX tokens cannot be turned into cash very quickly anyway, though, because there is a waiting period of 14 days for conversions from so-called staking. This mechanism is actually intended to prevent such 'runs'. However, investors can shorten the waiting period for a high discount.
Eyes closed
The crypto world, however, is currently heavily buffeted by negative strokes in general. Two well-known providers that could actually show convincing business models are currently in restructuring under U.S. law. We are talking about Voyager Digital and the Celsius Network.
For months the two crypto platforms have been fighting in a U.S. court with the 'analog' world to resolve their debt problems. But other than horrendous legal fees, there seems to be little progress so far.
In the fast-paced crypto world one is actually used to something different. When the algorithmic stablecoin system Terra-Luna collapsed, for example, two new coins hit the market after a few days, which completely wiped out those losses, and then it was just back to work.
09/11/2022/kut./ena.
Popular crypto exchange appears saved