The U.S. has imposed sanctions on a relatively large cryptocurrency. Users and crypto projects will have to pay attention to these things in the future.
The Americans have sanctioned the cryptocurrency Tornado Cash with its coin TORN. As the U.S. Treasury Department announced on Monday, the provider was guilty of money laundering and terrorist financing. Since its creation in 2019, the cryptocurrency has laundered more than $7 billion in funds, it said.
North Korea is also heavily involved in the activities, the U.S. department said. The digital motto was involved in numerous cyber crimes, among other things.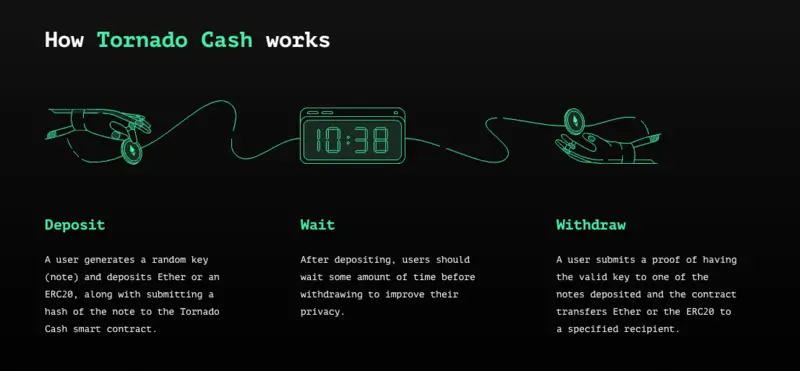 A simple principle is used to obfuscate transactions at Tornado Cash (source: Media Service)
Tornado Cash is a cryptocurrency on the Ethereum blockchain that can be used to cover up money transfers. Simply put, many transactions go into a «mixer» and then out again, making it very difficult to identify the sender and receiver. Apparently, the technology on Tornado Cash or also on 'blender.io' was so mature that not even the IT experts from the USA could crack it. Now the Americans are intervening harshly.
Direct price fall
All Tornado Cash possessions in or controlled by the United States will be immediately confiscated. US-related transactions now require a special license. The fall in prices was not long in coming, as is impressively shown on Coinmarketcap. It immediately went down around 25 percent. However, the market capitalization is still around $250 million.
Users must therefore now be careful not to violate these U.S. sanctions. The notice has identified TORN and all of its activities as a national security risk and involvement in it could make life very difficult in the future, which applies for Switzerland, too. It's best to keep your hands off it.
Americans show boundaries
It is interesting, however, that the Americans have apparently repeatedly asked the project to create better compliance. Contrary to public statements, Tornado Cash has repeatedly failed to introduce effective control mechanisms that could have prevented money laundering and the use of cryptocurrency for cybercrime. If the project staff had behaved differently, it would not have gotten this far.
«The United States will continue to act aggressively against those mixers who cover up money transactions for criminals and who help such people,» a senior U.S. official was quoted as warning.
09.08.2022/kut/ena.
The U.S. cracks down on well-known cryptocurrency