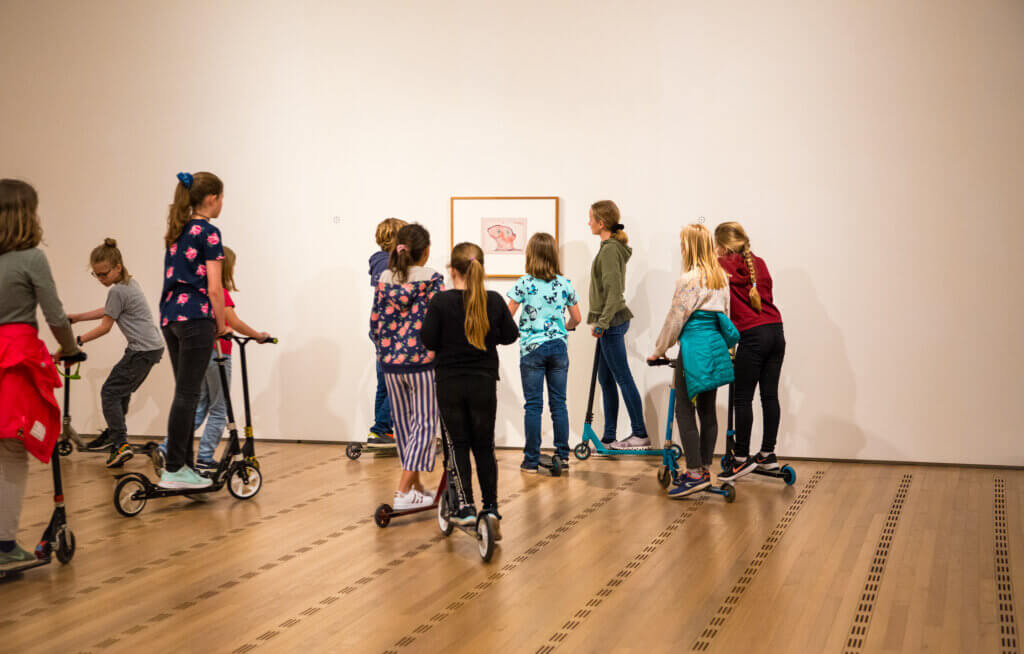 Climate activists are currently defacing works of art – be it with tomato soup or mashed potatoes. Swiss museums must therefore review their security and exhibition concepts.
The end does not justify the means, goes the saying. Activists who want to protect the climate and draw attention to their goals soiled a Vincent Van Gogh painting with tomato soup in London about a week ago.
Now what happened in Germany was that climate activists smeared a painting by French artist Claude Monet with mashed potatoes at the Museum Barberini in Potsdam.
Switzerland exposed
Experts therefore warn that these acts of vandalism could have serious consequences for the art world. In particular, Swiss museums are also at risk because they host controversial exhibitions of possible Nazi looted art, such as the Buehrle collection or the legacy of Cornelius Gurlitt.
While the Buehrle exhibition at the Kunsthaus Zurich is on loan the Kunstmuseum Bern owns the collection with the bequest of Cornelius Gurlitt. In this respect, different conditions must be taken into account.
However, the discussions about Nazi looted art could attract a particularly large number of actions. This is why Swiss museums have to be especially careful.
Behind glass and no pockets
Research by muula.ch shows how far things can go. Indeed, operators of museums and art galleries in Germany are already discussing stricter security measures. The German Museums Association recommends, among other security measures, that more staff be deployed and that works of art – if possible – be glazed.
In addition, institutions are relying on tighter controls and bag bans, among other things.
The expert Alke Dohrmann, who developed a security guide for museums on behalf of the German Conference of National Cultural Institutions, welcomes comparable measures: "A simple and very effective measure is to prevent bags, backpacks, jackets and coats from being brought into the exhibition," she told the newspaper "Welt".
Art needs originals
In the expert's view, however, this does not provide complete security: "A small tube of superglue can be concealed very easily," Dohrmann said. Protecting works of art from vandalism is very difficult if you don't want to put visitors under general suspicion and search them before every visit, she continued.
The majority of those responsible reject the possibility of exhibiting copies of artworks. "Art lives from the original. The activists would have done a disservice to people interested in art if only copies could be shown in the future," the managing director of the German Cultural Council, Olaf Zimmermann, for example, told the newspaper.
No high-security zones
"Museums live from the aura and uniqueness of the objects. If we can no longer exhibit works of art for fear of protesters, then an important consensus in our society would be broken away," Hermann Parzinger, president of the Prussian Cultural Heritage Foundation (SPK), also believes.
However, he is critical of overly-strict security measures: "I don't want museums to become high-security zones," says Parzinger.
But we can't put a security guard next to every painting, every sculpture, he continued. Museums should be open, social and inviting places for all people, this trust should not be abused.
Naive young people
Against the backdrop of attacks by climate activists on world-famous paintings in recent weeks, SPK President Parzinger also sees the possibility of further escalation. "We are indeed experiencing a new quality of protest that attacks culture just to gain attention."
If any form of protest, no matter how justified, carried out such actions it would change museums, he said.
So, Swiss museums should examine their security and exhibition concepts. This is in order to protect the priceless values from naive climate activists. The attitude that such things do not happen in this country should not apply in view of the imminent dangers.
25.10.2022/kut./ena.
Switzerland must strengthen security of works of art