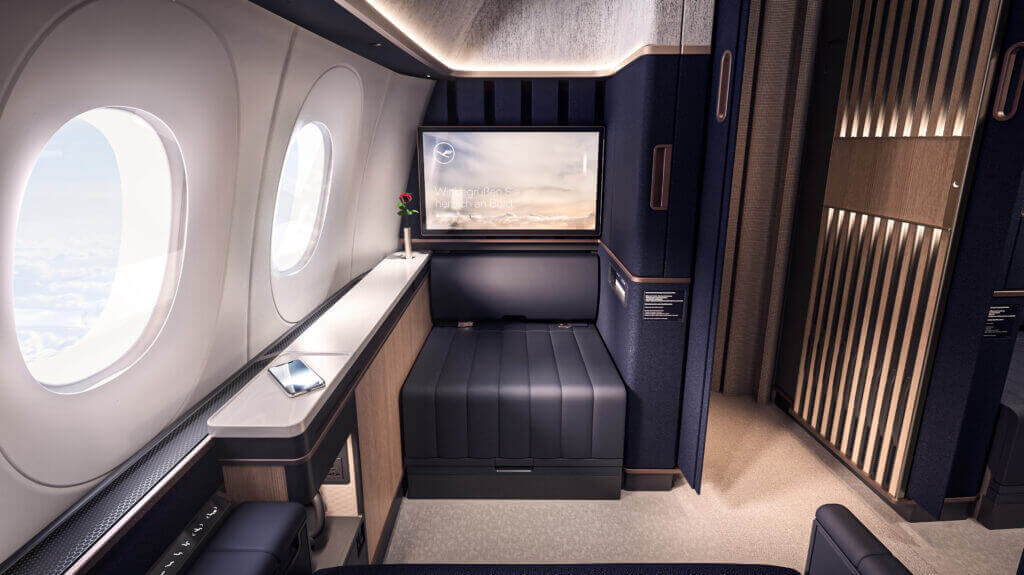 Until now the Lufthansa Group's strategy has been to adopt a tough austerity course. But now it is increasingly swinging the path reminiscent of the famous airlines from the Gulf region.
Germany's Lufthansa, which includes airline Swiss, has made a shift of strategy. What was actually always perceived as a cutback in quality and premium product is now taking off in the other direction.
For the first time in the company's history, the German flagship airline is getting proper suites on its planes under the product name 'Allegris,' and these luxury spaces can also be completely closed off with walls that are almost ceiling-high. Lufthansa made the surprise announcement on Friday afternoon.
Privacy top
It's not just the Lufthansa Group's first-class product that's undergoing a complete transformation, but includes business, premium economy and economy. Business class is also getting suites, at least in the first row, and these promise more privacy via sliding doors that can also be closed.
Passengers will have aisle access from all business class seats, which is also a first for the German airline. Larger monitors as well as connectivity via Bluetooth for devices passengers bring with them are, of course, also part of the new equipment.
Surprises in Economy
The new premium economy class is already familiar, having been unveiled at Swiss subsidiary Swiss earlier this year. Now the parent company also has it.
There will also be innovations in Economy Class – be it better footrests, a mattress support and even the option of booking a free neighboring seat.
Lazy excuse?
But anyone who is now puzzled and thinks that lockable suites in first and business class and a new premium economy look somewhat familiar is not mistaken. Arab airlines such as Emirates, Qatar and Etihad are showing the German airline the way.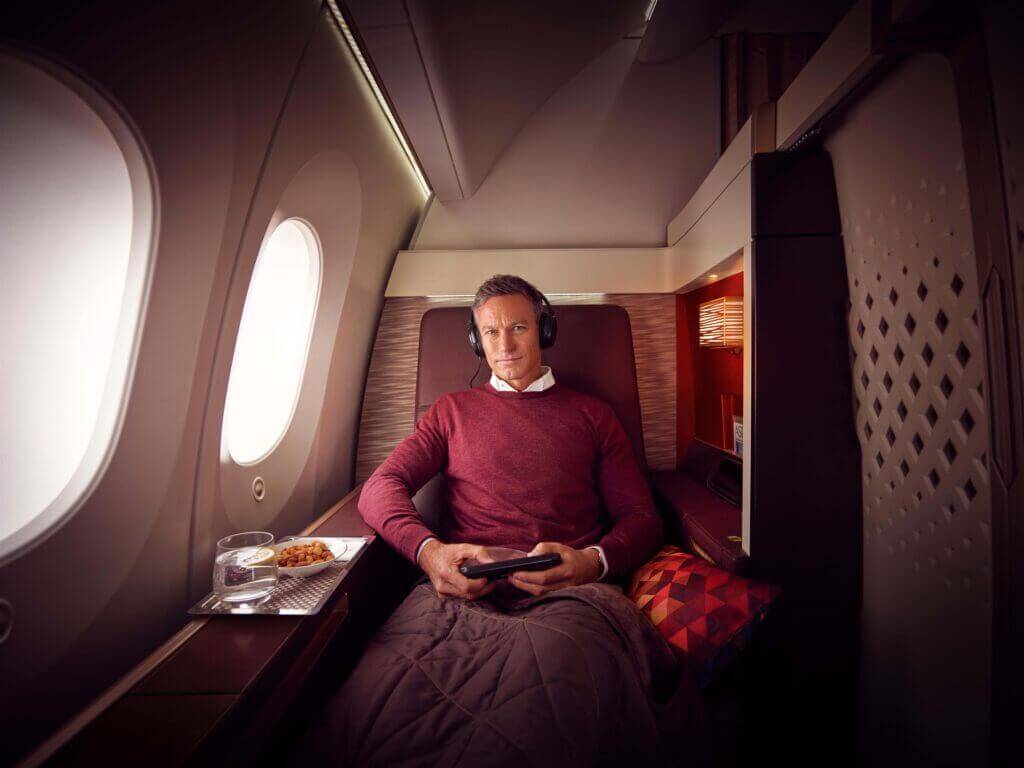 Etihad's First Class has been on the market for a long time. (Image: media service)
Lufthansa had previously always advertised that the cabins of its premium classes were particularly bright and built with a large sense of space. The Germans did not really want to know anything about such flashy suites, especially since weight and thus kerosene consumption always play a role in such extravagant furnishings.
Complete round trip
Lufthansa also did not have a completely flat bed in business class for a long time. The management had always argued that because aircraft at cruising altitude always have their noses slightly tilted upwards, that premium passengers would always lie with their heads slightly downwards on a flat bed that would therefore seem uncomfortable.
Apparently, there has also been a turnaround.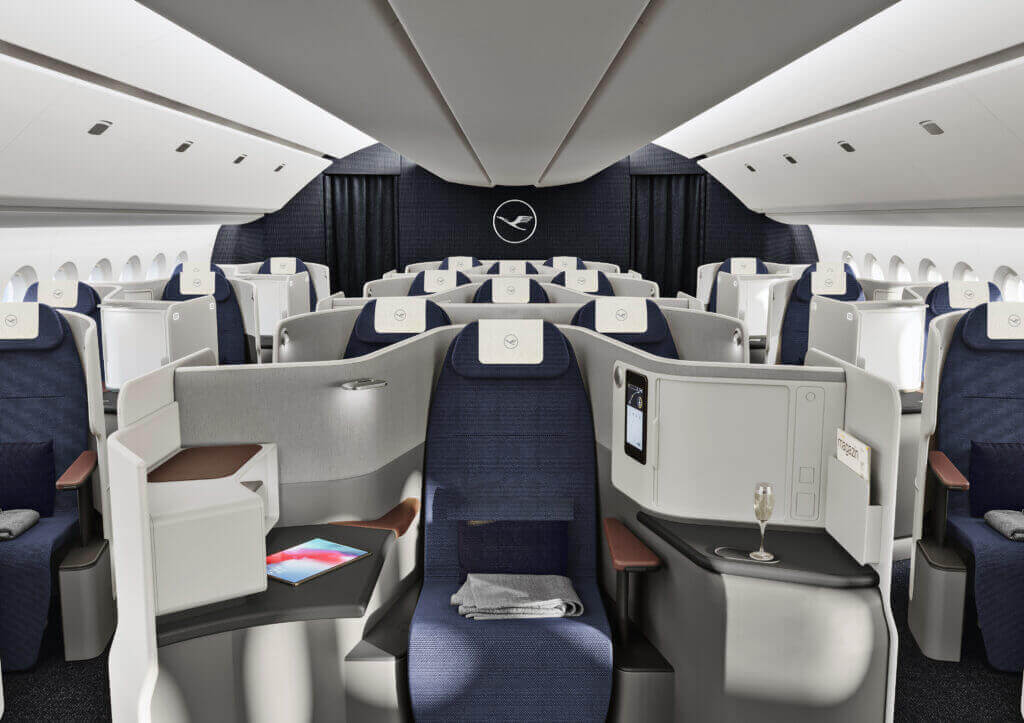 New Lufthansa Business Class (Image: media service)
But why have Gulf airlines always relied on enclosed premium areas? That's where you have to get into Arab culture, and two main reasons emerge.
Veils and alcohol
One is the fact that women in the Arab world actually have to veil themselves, and for strict believers, and this also applies aboard an airplane. However, if only family members are present, such as in a suite, the veil can be dropped and the whole family can dine together.
The second reason is the apparent prohibition of alcohol in Islam. However, some Arabs do like to indulge in a glass of Dom Perignon or Krug champagne, a Chateau Margaux or a luxury whisky. However, no one from the homeland is allowed to catch them enjoying a tipple in the process. In closed First and Business Class compartments, on the other hand, this is less conspicuous.
Many upgrades
These days, however, that standard has caught on among the established airlines. Even flagship carrier Singapore Airlines is still putting its money where its mouth is when it comes to suites and first-class compartments. And now European Lufthansa is not to be left out.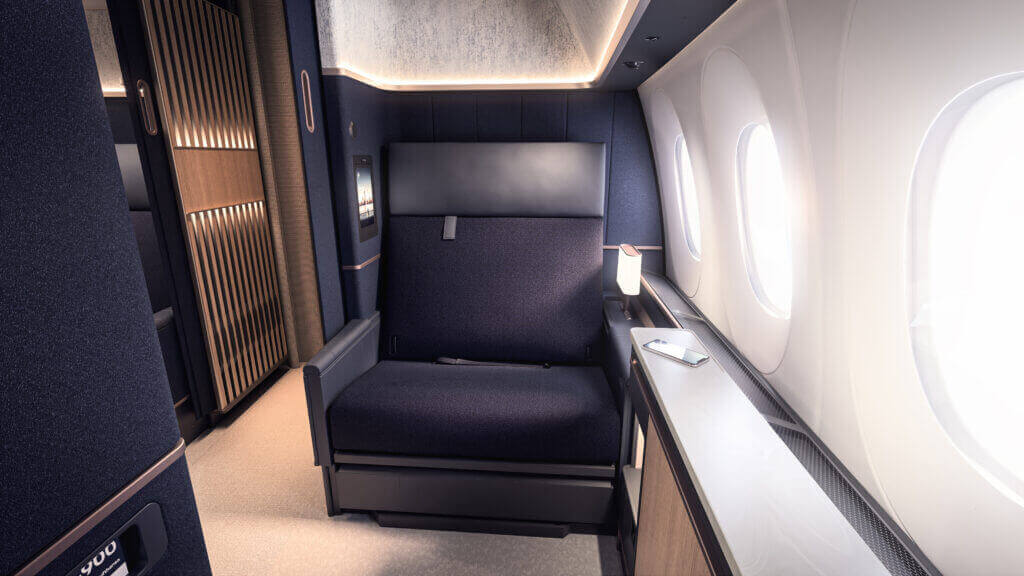 New Lufthansa First Class (Image: media service)
But there is a downside to all of this – First Class is hardly ever booked with full-fare passengers, such as Swiss federal councillors, but is occupied mostly using upgrades with miles or points from the airlines' bonus programs. So muula.ch wonders whether it's more of a losing proposition for the airlines?
Investing billions
In any case, the 'Allegris' offering will mean that in future the Lufthansa Group will have over 100 new aircraft, such as Boeing 787-9s, Airbus A350s and Boeing 777-9s, luxuriously flying to destinations all over the world. In addition, aircraft already in service with Lufthansa, such as the Boeing 747-8, will also be upgraded, the aviation group further explained.
The whole spree will cost Lufthansa around 2.5 billion euros, as it explicitly mentions as an investment in product and service.
Living room in the air
Apparently, Lufthansa's management, which actually always follows its strict austerity course and has always 'adjusted' its products over recent years, i.e. made them worse, seems to have finally rationalized that the German airline needs to upgrade.
In terms of the details communicated, however, the Gulf airlines are still miles ahead. At Etihad, the airline from Abu Dhabi, there have not only been suites but an entire 'sky residence' – an apartment with a living room and bedroom as well as its private bathroom on board the scheduled jet for years.
10/15/2022/kut./ena.
Lufthansa Group emulates Emirates, Etihad & Co.