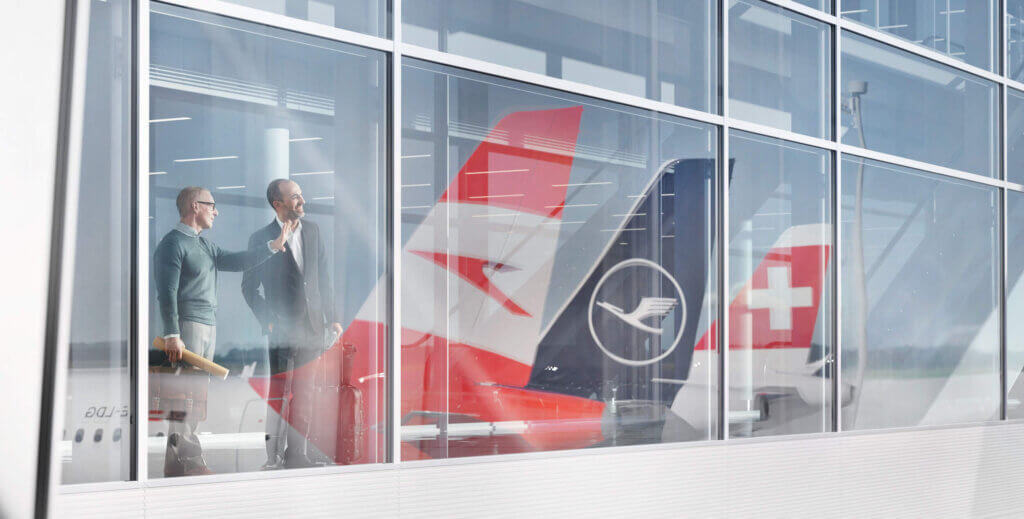 The Lufthansa Group, which includes the airline Swiss, is once again adjusting its bonus program. The best customers are losing out.
Lufthansa Group, which includes Swiss airline Swiss, is once again revamping its Miles&More customer loyalty program.
The German airline group is thus continuing its years of haggling over status and award miles, status star points, flight segments or Hon Circle miles.
Mile per euro adé
This time, those responsible for marketing have once again come up with 'something new' and bring Points, Qualifying Points and HON Circle Points into play.
It's hard to beat the absurdity of all of this, because customers are only just getting used to the mileage credits for every euro spent on tickets that were introduced right before the coronavirus pandemic.
Travel class and distance
Now, award miles remain, but status mile credits are generally disappearing and the Lufthansa Group is launching a points account for every customer. In the future, benefits will be based on travel class, i.e. economy, premium economy, business class and first class.
Subsequently, a further distinction will be made between continental and intercontinental flights, and points will be credited from 20 (economy/continental) to 300 (first/intercontinental).
"To achieve Frequent Traveller or Senator status, you need both Points and Qualifying Points. You can achieve HON Circle status via HON Circle Points," Lufthansa writes about their "simplifications."
Hon status in the air
Those who still remember the days when exactly one mile and status mile were credited for every mile flown will surely mourn this simplicity. From 30,000 or 35,000 flown miles, Swiss nationals and foreigners were classified as "Frequent Flyers".
From 100,000 status miles, there was also sometimes the 'Senator' status.
And from 600,000 status miles, i.e. flight miles with the Star Alliance Group, within two years, luxury customers received 'HON' status, the highest of all airline statuses.
The group limited the latter to business and first-class tickets only, to exclude economy passengers.
Short distances a hurdle
Within Europe, passengers then at some point collected fixed mileage values depending on the booking class and airline, because the distances were far too short and customers would never have got off the ground when collecting miles between Zurich and Geneva, for example, or on the route from Frankfurt to Munich.
For all other flights the airline's booking class and distance are currently used as the basis for calculation. In addition, status customers currently receive an executive bonus of 25 percent on the collected status miles.
Competition is attractive
And so the whole thing, concocted by the creators themselves, became more and more complicated.
But the booking behavior as well as the pricing of airline tickets changed a lot with the emergence of low-cost carriers à la Easyjet, Ryanair & Co. as well as the competition from the Gulf region and Asia around premium airlines such as Emirates, Qatar Airways, Etihad, Singapore Airlines, Thai or Cathay Pacific & Co. So Lufthansa had to react accordingly.
So this scheme was conjured up to use the expenses in Euro for a mileage bonus and status level and not only to rely on miles, status miles, flight segments or newly-invented 'Select' miles.
Supplements for award tickets
Customers became more and more indifferent to the whole circus, because there were also far fewer and ever diminishing benefits. Especially with Swiss and Lufthansa, customers usually have to pay horrendous extra co-payments when redeeming award tickets.
Here, too, those responsible for marketing were creative, because premium tickets were later subject to exorbitant additional fees in addition to kerosene surcharges.
Lounge lag
Also noticeable was less and less in the lounges. The range of magazines was reduced, booze quality became cheaper and cheaper, and the food on offer left a lot to be desired in the eyes of many frequent flyers. Any discount indirectly granted on tickets thus literally floated away into thin air.
Asian and Gulf airlines, on the other hand, pampered their status customers with more champagne and luxury food both on the ground and in the air.
Adaptation means deterioration
So now it's time for another adjustment, and anyone who knows the Germans knows that it doesn't come without deterioration. And this time, it's their best customers who have to foot the bill.
On the one hand, these are the loyal status customers, because in the future you will only belong to this customer group for one year instead of two.
And the travelers with expensive tickets in First and Business Class, who previously received high benefits, will be worse off in the flat rates according to travel class and distance category Europe and Intercontinental.
Complete chaos
Hon Circle members will receive a mere four upgrade vouchers for appointment and re-qualification instead of the previous six. Beyond that, the Senator Premium Award will no longer even exist.
Oh, and yes, the Executive Bonus will also be eliminated, although Lufthansa notes that it will still be available for award miles.
Buy champagne yourself
According to discussions in chat forums, the winners of the new system should be the low-cost economy passengers after its introduction in January 2024, because the new system beckons them back to a status level.
In the eyes of muula.ch, the best thing about all this seems to be that customers will in future look exclusively at suitable flight times, the desired level of travel comfort and the lowest possible ticket price.
With the money saved, they would then buy themselves a glass of Dom Pérignon vintage or Krug Champagne, a glass of fine red wine à la Château Rothschild or a premium whiskey while in the airport and eat something far tastier which they crave, rather than some bland on-board offering.
Lifetime theater
Lufthansa and Swiss still at least offer one innovation. For 30,000 Qualifying Points, customers get Frequent Traveller for life, and 40,000 Qualifying Points earns them Senator for life.
The airline seems to have copied this from the luxury hotels and their bonus programs, because Hilton, Marriott & Co. have had this feature for ages.
The idea is to keep long-time customers loyal so that they can still enjoy some privileges in retirement without a financially-strong company behind them.
In Lufthansa's case, this means that after completing 1,500 continental flights in economy, passengers receive the Frequent Flyer for life.
40 years on flying
With around 50 flights per year – which is a lot – passengers would have to continually travel for 30 years. If customers use business or first class, this benefit is actually cut in half, and first class flights within Europe are probably not even offered at all.
Lifetime Senator status would require 2,000 economy flights in continental Europe, or 40 years at 50 flights per year.
Retirement with luxury
If travelers always fly first class Overseas, they would reach lifetime senator status after only 133 flights, i.e., with perhaps 10 luxury class trips per year, 'already' after 13 years.
Those who spend so much money for such luxury travel can probably do without the Senator status in their retirement and pay for all those nice amenities, which are only granted after 20 or 30 years by Lufthansa & Co. to Senators anyway.
Or that person buys a first class ticket again without all the bonus program theater, with all the luxuries on board as well as gaining access to the first class super lounge.
12/16/2022/kut./ena.
Lufthansa and Swiss trim privileges of best customers