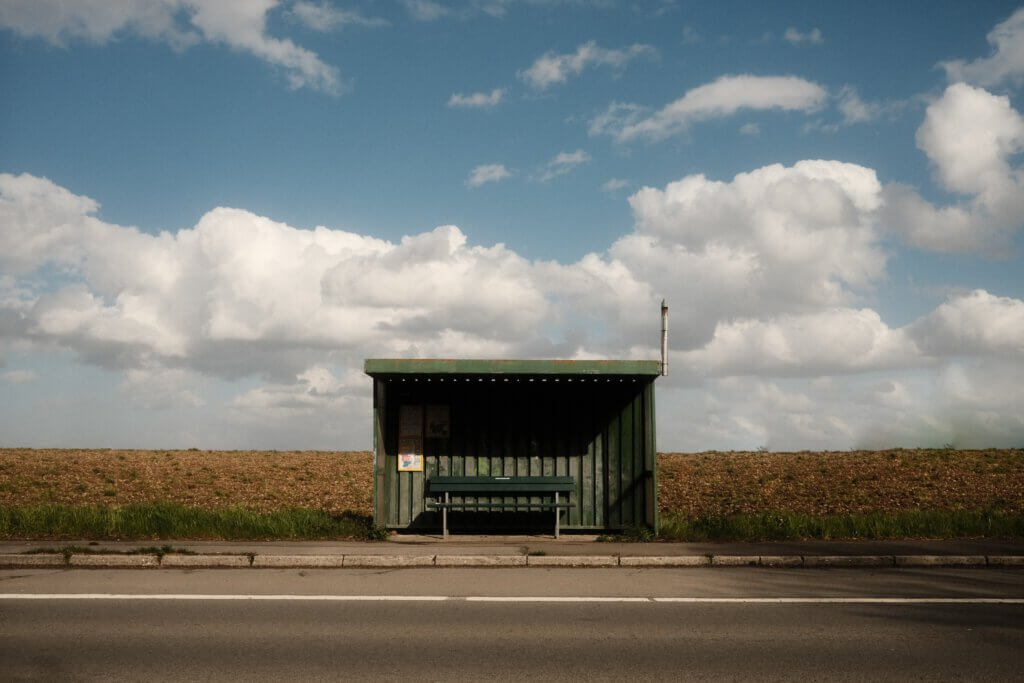 Switzerland is so proud of its public road and rail transport and cable cars. But the coronavirus pandemic literally set everything back light years.
Normally, things often go uphill in Switzerland. But if you look at the latest figures from the Federal Statistical Office (FSO) on public transport, you see a tragedy.
Although, the share of public transport in the total number of passenger-kilometers traveled by land-based motorized transport in 2021 remained roughly at the previous year's level of around 16 percent.
Lower for decades
In a long-term comparison, however, the results are well below the usual values of around 20 percent, and this is still the worst value since the year 2000.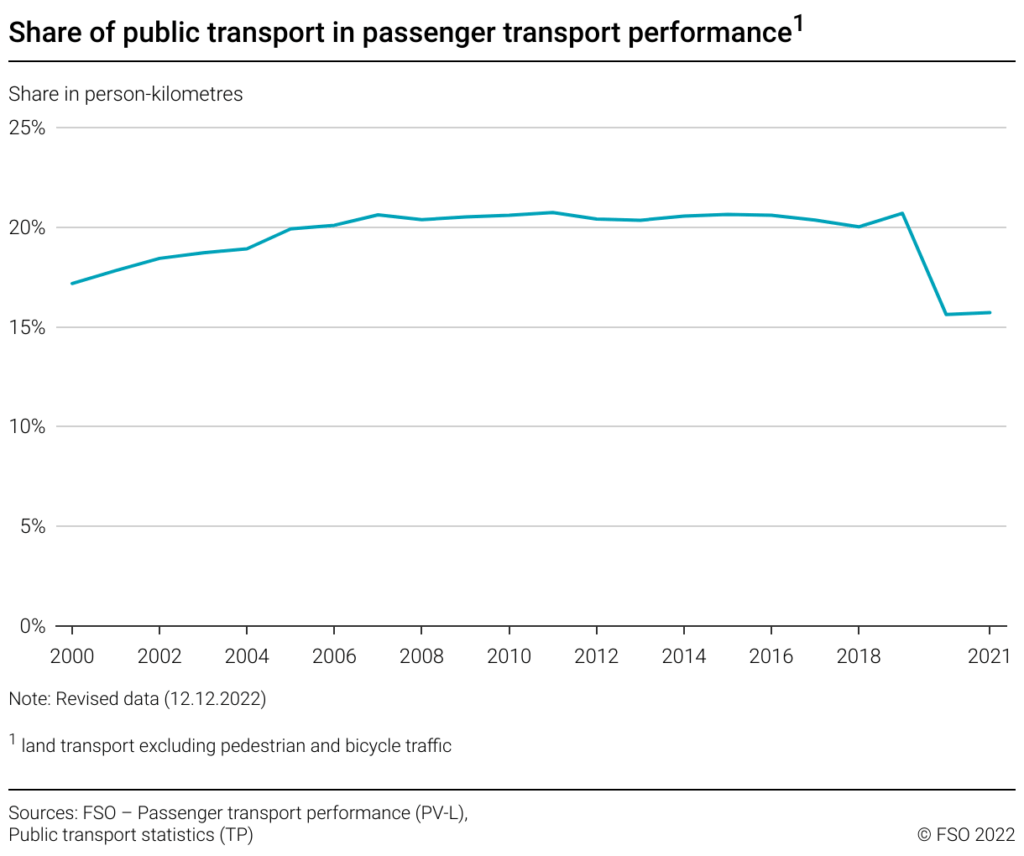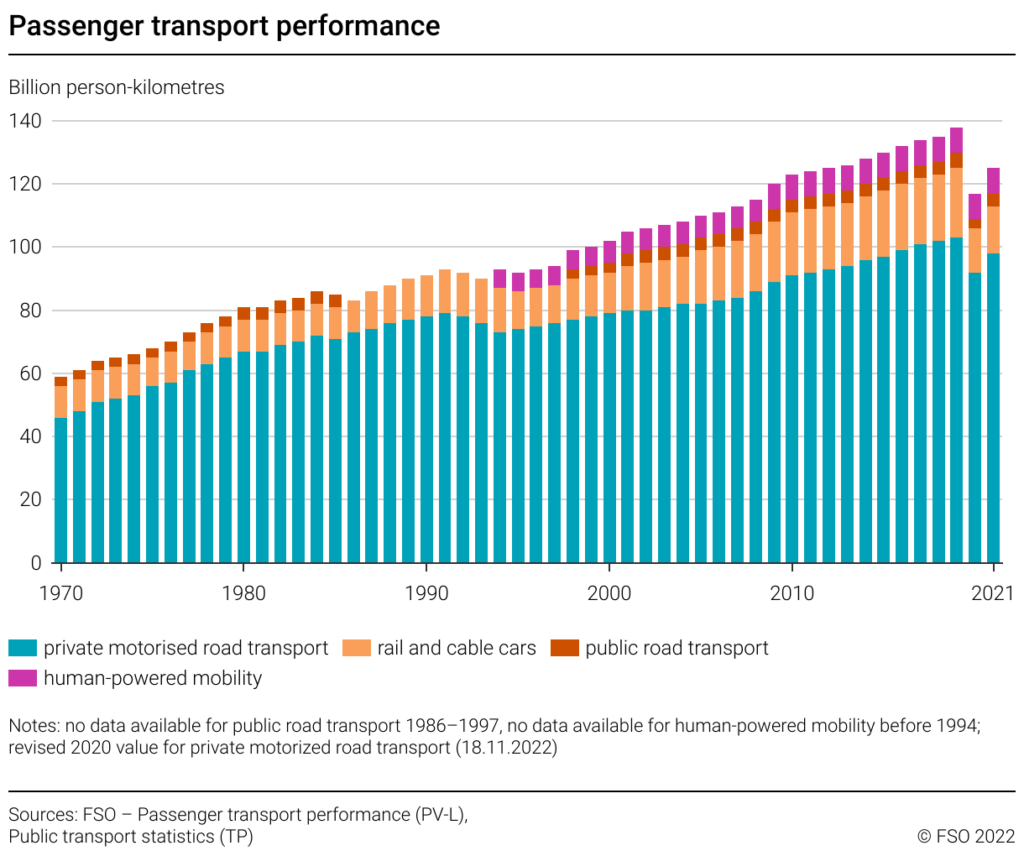 Looking at absolute rather than relative values, it shows that a total of 18.3 billion passenger-kilometers were traveled in Switzerland in 2021 by public road, rail and cable cars, according to a statement Monday from the FSO.
That's 7 percent more than in 2020, but still 32 percent less than in 2019 – the year before the Covid 19 pandemic began.
Apart from 2020, the last time transport performance was lower than in 2021 was back in 2002, it added.
Recovery for railroads
So Switzerland has been severely slowed by the coronavirus pandemic in terms of public transport's share of total traffic. In absolute terms, the situation is no better.
Looking at the individual modes of transport, railroads have risen slightly again, but still well below their pre-pandemic peaks. They have returned to the 2006 level of around 400 million passengers carried.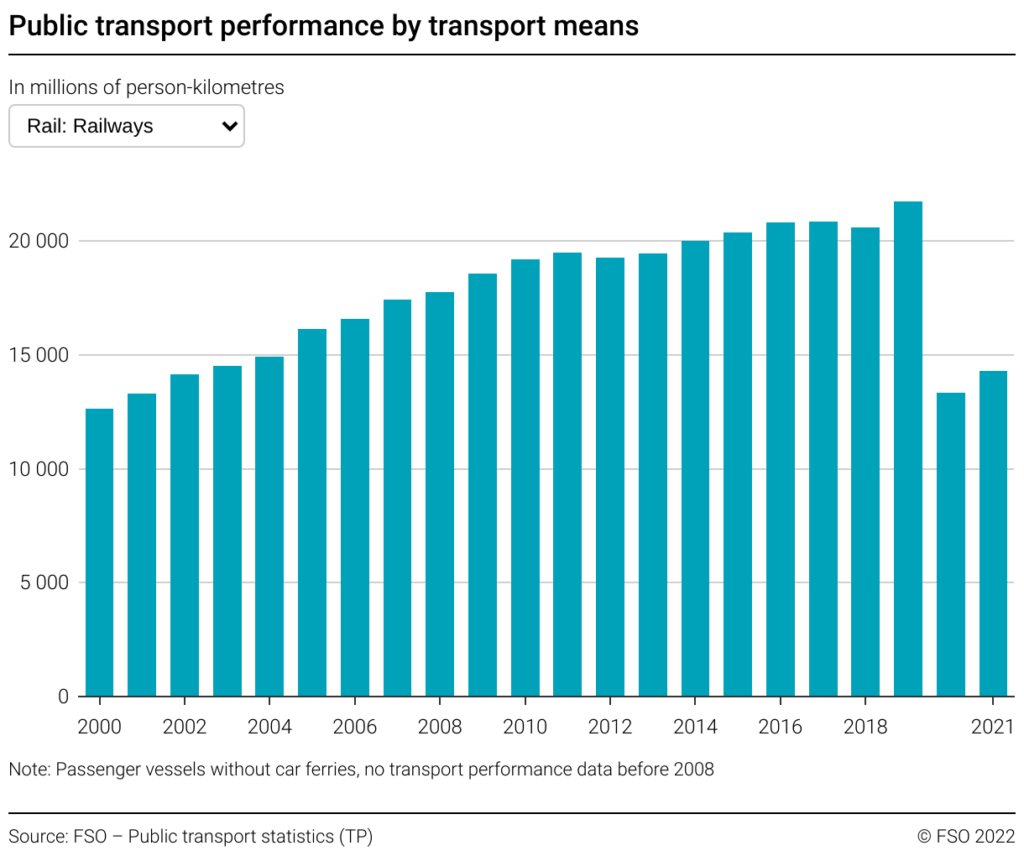 In terms of traffic performance, i.e. kilometers transported, the picture for the railroads does not look any better (compare charts).
The rack-and-pinion railroads have been particularly hard hit. However, they have not yet recovered from the slump in passenger traffic in 2020. They are still only at half the level of the year 2000, when slightly more than 15 million passengers were recorded.
Skiers help
Shipping carried between 11 and 12 million people each year. In the Corona year of 2020, the figure slumped to 6 million, and in 2021 the somewhat recovered figure was around 9 million passengers on passenger ships.
Cable cars, on the other hand, are doing much better. The current figures are already back up to the 200 million passengers of any given year. The coronavirus pandemic had almost no effect on these figures.
It seems likely that skiers have simply not been deterred by the crisis.
12.12.2022/kut./ena.
Switzerland set back ten years