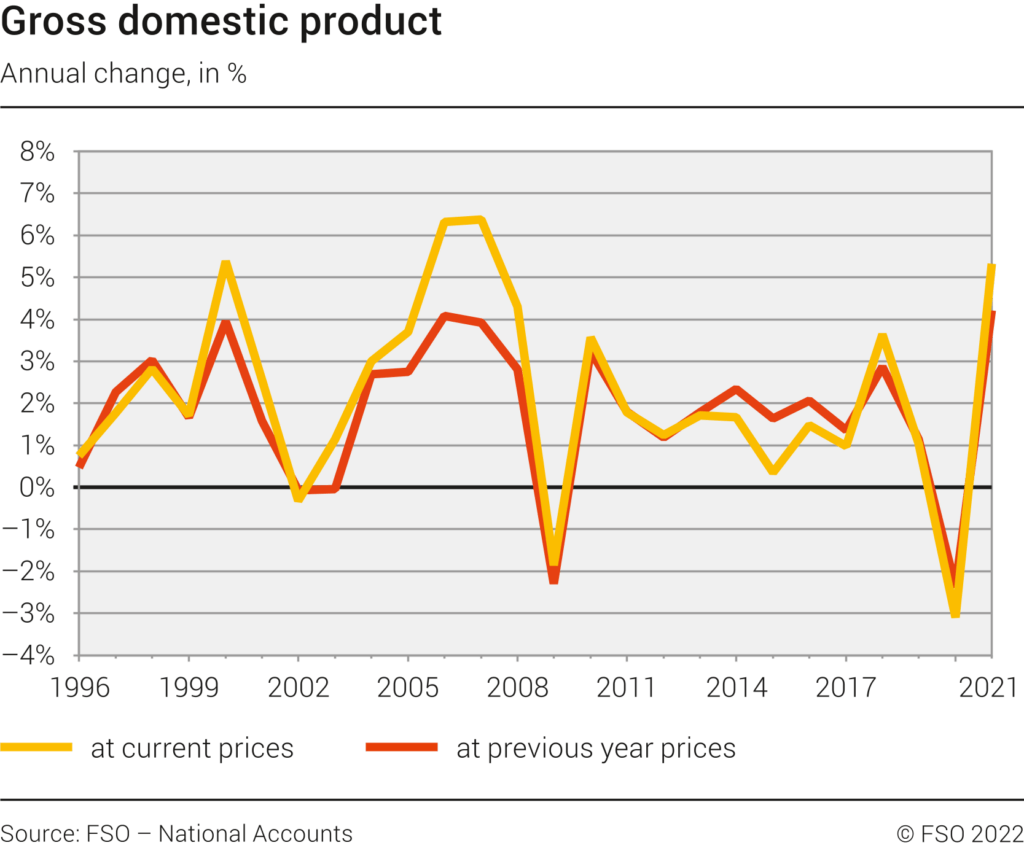 According to the latest figures, Switzerland's gross domestic product recovered significantly last year from the slumps during the coronavirus crisis. Juggernauts and stragglers surprise.
The Swiss economy recorded growth of 4.2 percent in 2021. This significant increase in gross domestic product – GDP – follows the decline in 2020, when a fall of 2.4 percent was recorded due to the coronavirus pandemic.
This is according to the latest figures released by the Federal Statistical Office – FSO – on Tuesday.
Investment in equipment
Thanks to the recovery, GDP in 2021 was above the 2019 level, although some areas of the Swiss economy continued to suffer from the coronavirus pandemic.
According to the FSO, investment increased significantly by 4.2 percent last year after a sharp decline in 2020 (-3.1 percent). The most important driver was the sharp rise in investment in equipment, which increased by 8.1 percent.
Construction was the problem child
By contrast, with a decline of 3.0 percent, the construction sector unfolded in a similar way to previous years, when figures of -0.9 percent (2019) and -1.0 percent (2020) were recorded. This is surprising, because one might actually assume that construction is taking place in every corner of Switzerland.
Health care and social services also grew virtually unabated. The sector increased by 5.1 percent in 2021.
High pharmaceutical exports
Trade with foreign countries grew last year, with exports increasing more strongly than imports. In merchandise trade, exports increased by 11.5 percent, outpacing imports, which grew by "only" 4.7 percent. The main reason for this uneven development was due to chemical and pharmaceutical products.
As a result, the surplus on the balance of goods increased by 29 percent.
Consumption-led government
In 2021, the value added from industry also increased strongly, growing by 11.4 percent. Non-financial services also recorded a significant increase in value added after a difficult 2020.
In contrast, some activities – such as hotels, restaurants and creative activities – continued to suffer from the effects of the pandemic. However, with an increase of 5.2 percent, financial services supported the Swiss economy overall in 2021.
On top of this, what is striking about the figures is that consumer spending by private individuals increased by 1.6 percent compared to the previous year. Furthermore, the state was also generous, with spending rising by 3.5 percent, which was in line with the previous year.
08/30/2022/kut./ena.
Swiss economy shakes off coronavirus