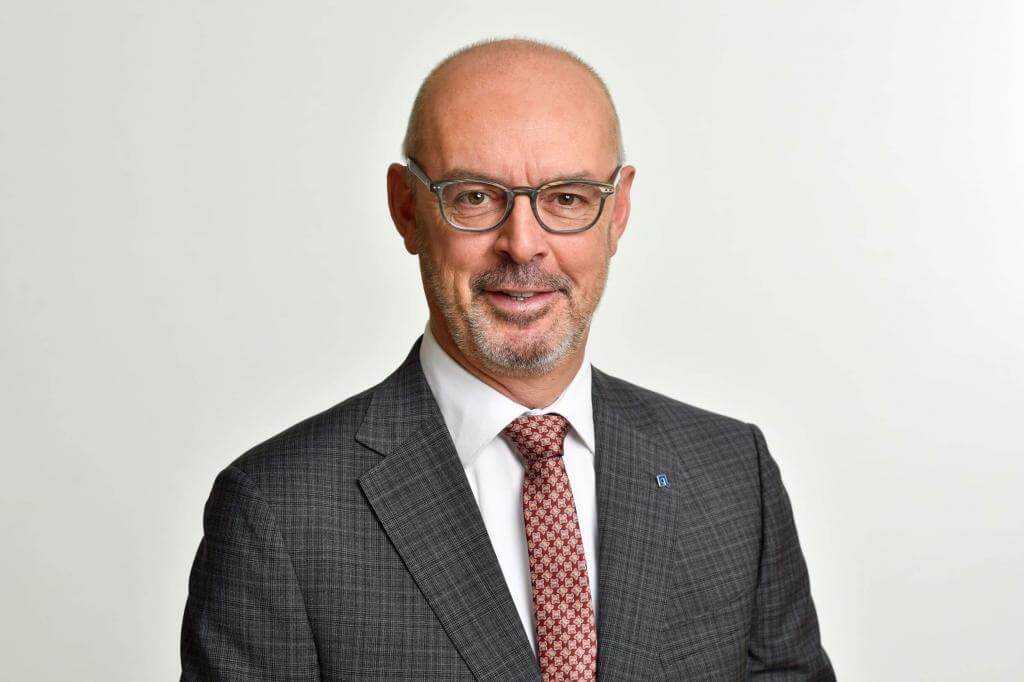 Baloise Group CEO Gert de Winter has just recovered from cancer. A lot of work await him.
Basel-based insurance group Baloise presented a mixed set of half-year results on Thursday. Business volume fell 7.5 percent to 5.4 billion Swiss francs in the first six months of the current fiscal year. This was due to exchange rate headwinds and lower investment-type premiums, mainly in Luxembourg, and life insurance in Switzerland.
Profit declined by 5 percent to 287 million Swiss francs in the period under review.
Capital market capers
Net investment income decreased by around 16 percent to 475 million Swiss francs. In view of the turbulent capital markets, things could have been worse – in this respect, we can breathe a sigh of relief.
Operationally, however, things went well for Baloise, which is particularly evident in the property insurance segment. Although a winter storm raged in Belgium, the Group-wide combined ratio, an important indicator of the underwriting profitability of insurers, improved by 0.4 percentage points to a strong 91.9 percent.
Balance in the portfolio
A one-off effect had a negative impact on costs in Belgium; however, Baloise more than made up for this within the Group. In this respect, the insurance group was once again able to breathe a sigh of relief.
However, CEO Gert de Winter, who was absent at the beginning of the year due to cancer but has now been back in full operation for a few days, cannot rest on his laurels.
Consumption of capital
Above all, the manager has to deal with the slump in equity capital, where the rise in interest rates caused equity to plummet by around 31 percent to just 5 billion Swiss francs.
However, the equity ratio plummeted from around 8.1 percent at the end of 2021 to 5.97 percent in the first half of the year. Hard equity is therefore in short supply. If interest rates continue to rise, the Group will probably not be able to avoid a capital increase.
Only in Theory
The Swiss Solvency Test shows a high ratio of 230 percent at the end of the first half of the year. In this respect, the situation at the Group, if an economic view is taken, is more than in the clear, and it is once again possible to breathe a sigh of relief.
Just in time for the beginning of "Season 2" of the new strategic period, de Winter has returned to the bridge in command at the Basler Insurance Group. Many are happy about this, as one hears from within the Group.
But exactly where the journey will take him remains to be seen, because strategic goals – such as winning 1.5 million additional customers within four years and generating two billion francs in cash for the holding company – will not be so easy to achieve.
Saturated markets
Baloise's main focus is on Switzerland, Germany, Belgium and Luxembourg. Apart from the already mini-markets of Belgium and Luxembourg, the rest of the catchment area is highly competitive and actually saturated in insurance products. The only way to gain market share would be through a price war, but that cannot be the goal.
In the second half of the year, management will face further challenges in addition to all of this. Just think of inflation, which usually hits the insurance industry hard because claims settlement is becoming increasingly expensive. And only the change to a unified umbrella brand "Baloise" will not allow the Group to breathe their sigh of relief in the coming months.
08/25/2022/kut./ena.
Baloise Group breathes a sigh of relief